Aerial firefighting is the support of ground crews with fixed wing aircraft and rotorcraft to combat wildfires. Aircraft have varying functions within aerial firefighting. Small fixed wing aircraft can transport smokejumpers to parachute into a wildfire for initial attack. Unmanned aircraft can survey a wildfire and provide information before deploying other assets. Larger fixed wing and a range of rotorcraft can deploy water or retardant to slow the spread of a wildfire. Combining aerial firefighting with ground efforts is a common method deployed across the world to manage wildfires.
The root of all success in the aerial firefighting industry are the people. Pilots, mechanics, drivers, administrators, and support staff keep aircraft flying. Without the incredibly skilled and talented people in the industry, aerial firefighting would not be as successful as it is today. We at Billings Flying Service are proud of what the members of our team have accomplished and are humbled to be a part of the aerial firefighting community. Please reach out to us with any questions about how we can support your aerial firefighting needs or if you are interested in joining our team.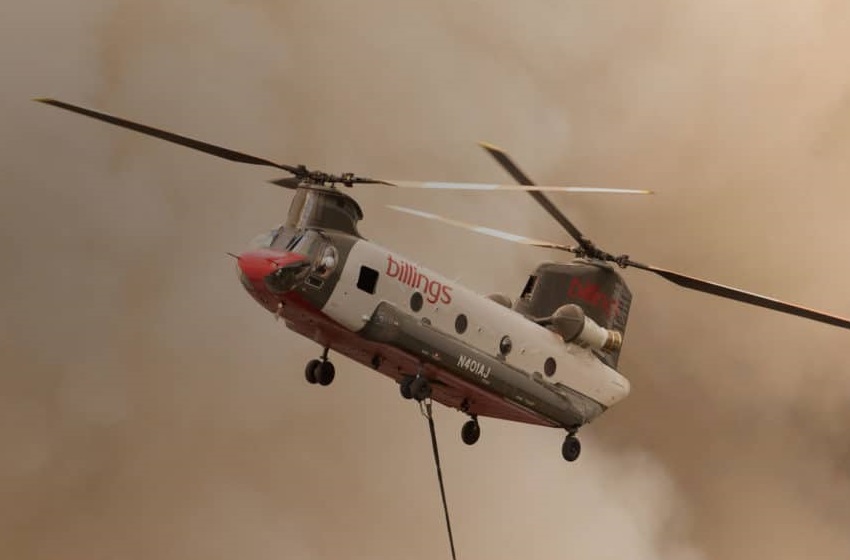 Billings Flying Service: Aerial Firefighting Company
Aerial firefighting has become synonymous with Billings Flying Service. We specialize in heavy lift helicopter operations and maintain a fleet that can drop anywhere from 100 to 2700 gallons of water or retardant on a wildfire. We have conducted aerial firefighting missions around the globe with a world class team that maintains a safety first mindset. Billings Flying Service operates Bell 206 Long Rangers, UH-60A Blackhawks, and CH-47D Chinooks to support aerial firefighting efforts both domestically in the United States and abroad. We employ aerial firefighting pilots, mechanics, truck drivers, administrators, supply chain specialists, and engineers.
Aerial Firefighting Wildfires
Without wildfires, the aerial firefighting industry would be much smaller. So, it is worth understanding wildfires and why the aerial firefighting industry exists in the form it does today.
Even though most news coverage portrays wildfires in a negative light, wildfires are actually nature's way of recycling nutrients and kickstarting new growth. Primary macronutrients in soil such as nitrogen, phosphorus, and potassium become rapidly available after a low intensity fire due to chemical conversions of slowly decaying matter. These macronutrients boost new growth and begin nature's cycle over again. In fact, certain tree species such as hickory and sequoia, are fire-activated and rely on wildfires for reproduction. Native American populations in the Northeast were one of the world's first wildfire managers in an effort to boost the growth of hickory nuts, a valuable food source.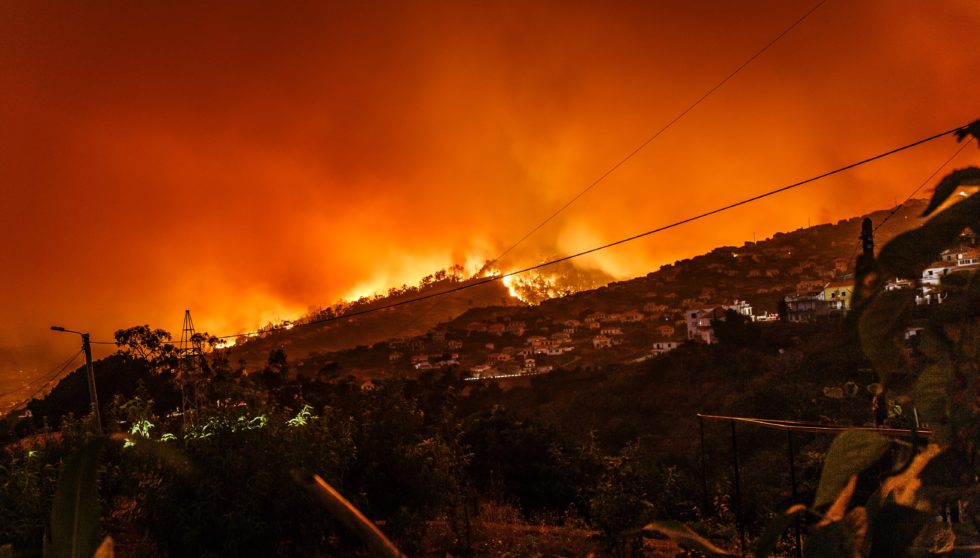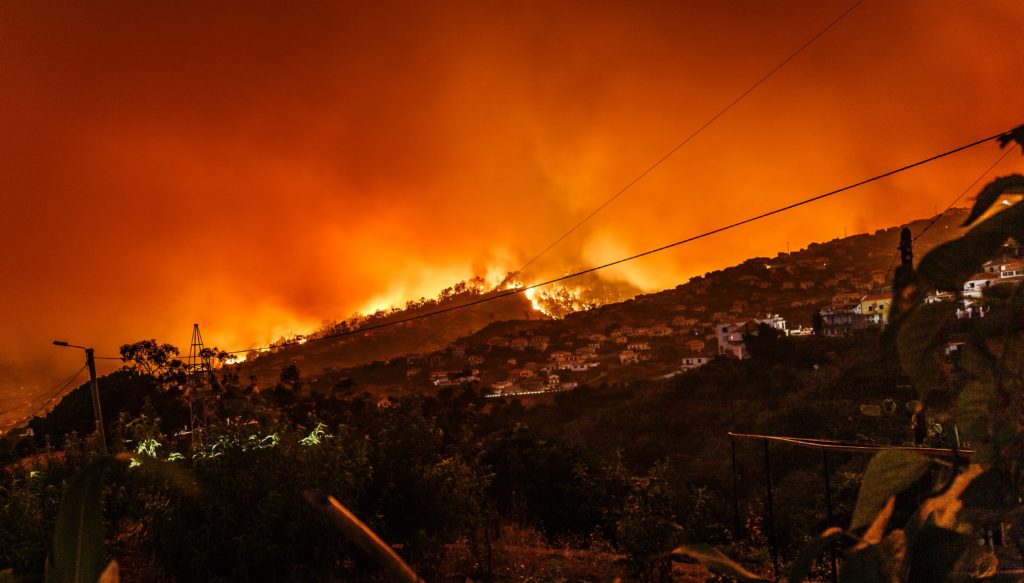 The Danger of Wildfires
While wildfires have a role to play in the ecosystem, they pose a danger to life and property across the globe. Arid forested regions in particular are at higher risk due to low humidity, low precipitation, and an abundant source of fuel. Add in the varying effects of climate change and you have a wildfire recipe that grows more intense with each passing year. Often the flames rage to a level that become unsafe and/or unfeasible to manage solely on the ground. Ground fire crews are faced with greater frequency and intensity of wildfires, coupled with population growth and density that make fighting wildfires more dangerous and difficult.
To mitigate the damage incurred by wildfires, regional and inter-governmental agencies implement fire mitigation strategies including controlled burns, fuel reduction programs, firebreak construction, and strategic placement of resources. One such strategy is the deployment of aerial firefighting assets.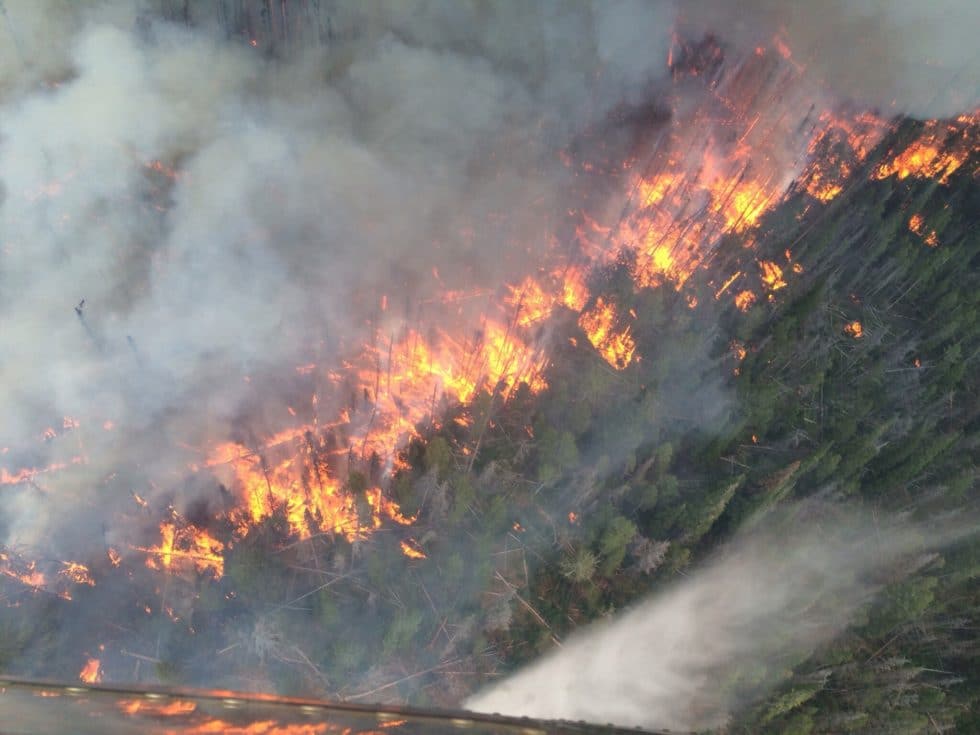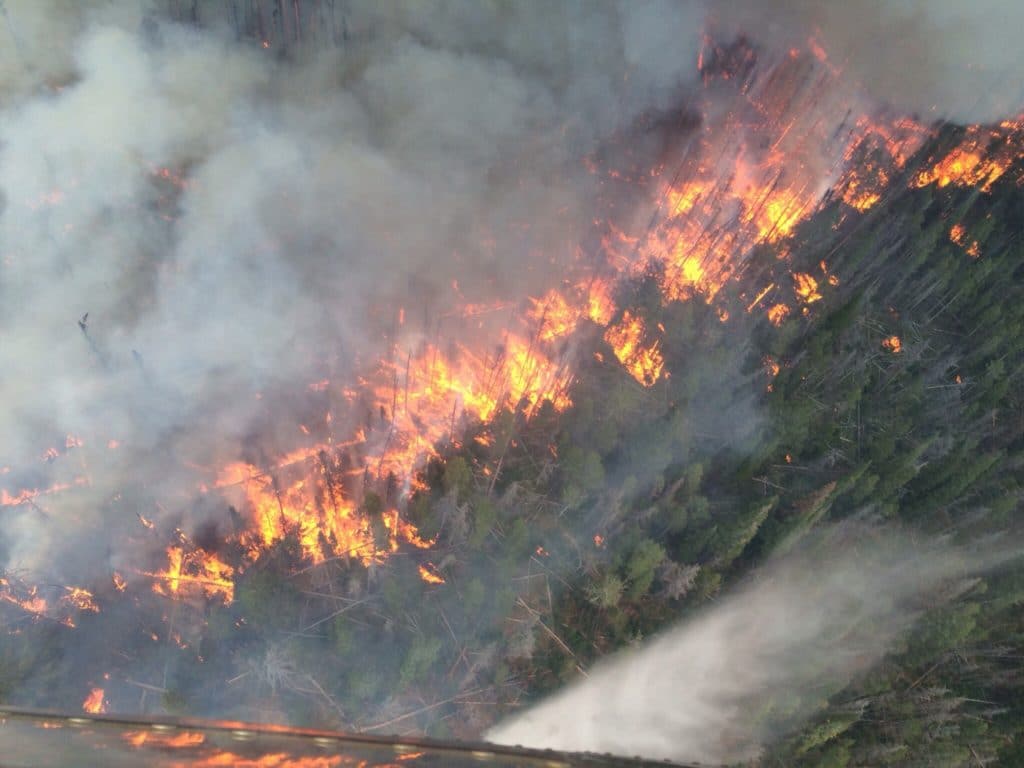 Why is Aerial Firefighting needed?
The main goal of aerial firefighting is to support the needs of local firefighting agencies on the ground. Aircraft allow fire crews to access remote locations, secure fire perimeters, save buildings and structures, and reduce fire intensity. Aerial firefighting provides the following advantages:
Accuracy: From above, aerial firefighting aircraft have the advantage to strategically drop water or retardant on or around the fire. Rotorcraft can hover and drop all on one location and fixed wing aircraft can release along a defined path.
Volume: Aerial firefighting aircraft presents an unmatched ability to unleash massive amounts of water in targeted locations in a very short period of time. Up to 2,700 gallons can be transported via rotorcraft such as the Billings Flying Service CH-47D Chinook while the large and very large air tankers such as the DC-10 Air Tanker can hold over 9,000 gallons.
Rapid Deployment and Speed: Aircraft and rotorcraft can rapidly deploy and hit crucial areas of a wildfire that has just started, giving the ground crews time to arrive. Travel speeds are higher with direct flight paths that reduce the time to arrival on fire. Rotorcraft and scoopers can utilize nearby remote lakes and reservoirs, removing the need to return to base for water replenishment.
Reconnaissance: An eye from the sky is important to inform agencies on the ground of the rate of fire growth, total area, proximity to structures, and other critical variables that affect decision making.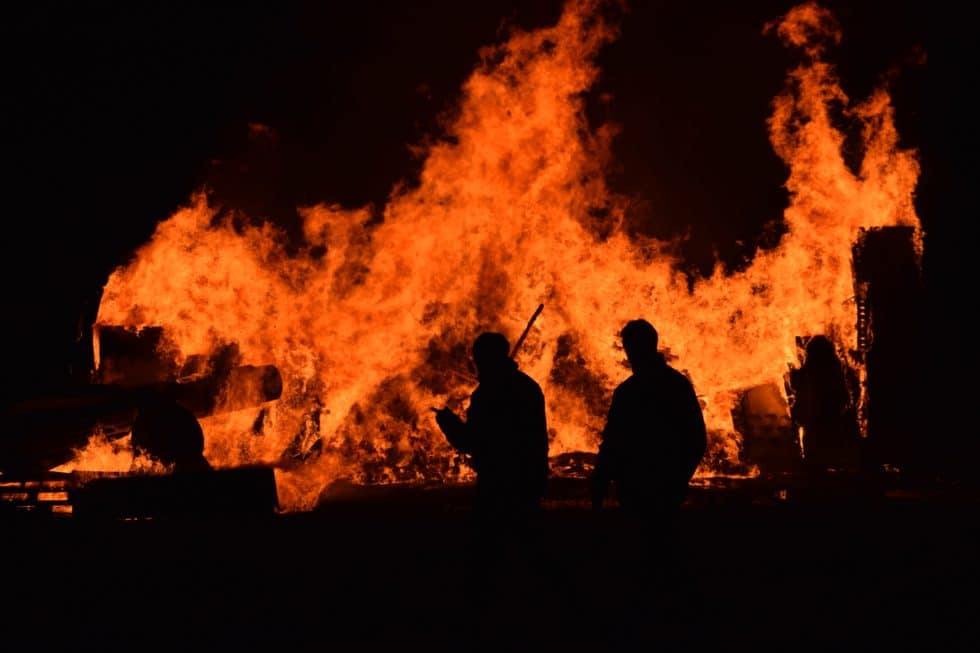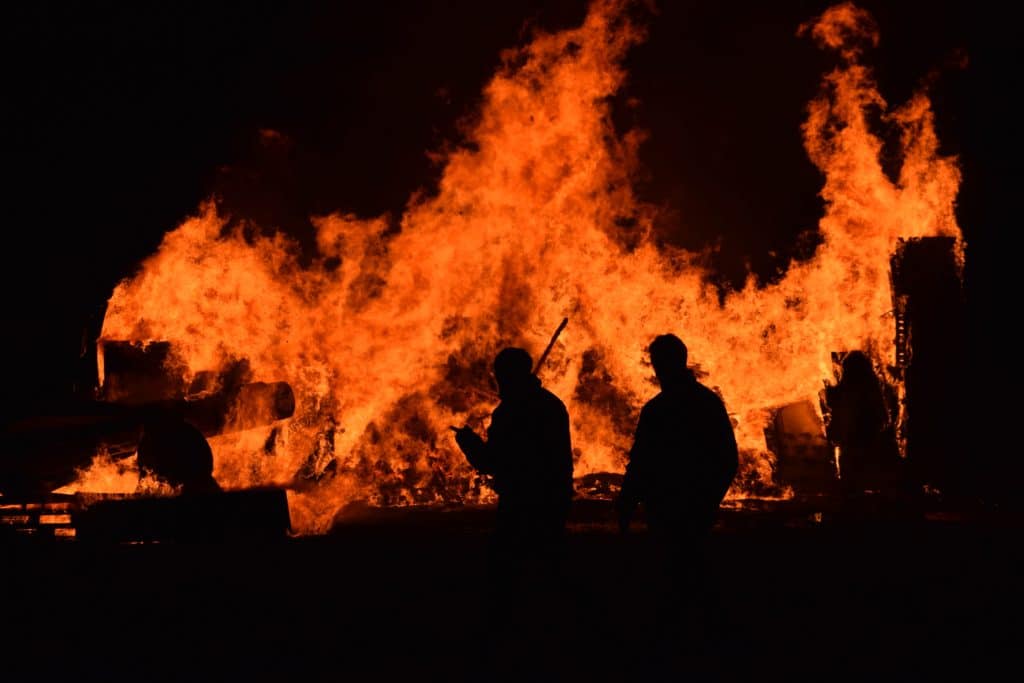 Who are Aerial Firefighters?
Aerial firefighters are the brave men and women who face the inherent dangers of wildfires head on. Pilots, mechanics, drivers, smokejumpers, and the air attack team are among those who are the first responders to a wildfire. The positions listed present an opportunity to find aerial firefighting jobs. One main aerial firefighter requirement is to operate as a team. Each and every position needs to be a team player with effective communication to minimize risk and maximize safety.
Aerial Firefighting Pilots
Pilots command both fixed wing aircraft and rotorcraft in and around the blaze. They are responsible for making fly/no-fly decisions, manage effective communication between stakeholders, monitor aircraft health, and pilot the aircraft to provide surveillance and drop water, retardant, and smokejumpers in the correct location amidst all the hazards. Aerial firefighting pilots have a unique skillset that is built with experience in the industry and time in aircraft to obtain the proper type ratings. Aerial firefighting pilots here at Billings Flying Service tend to accumulate time in the military, commercial aviation, agriculture, or logging before joining our team.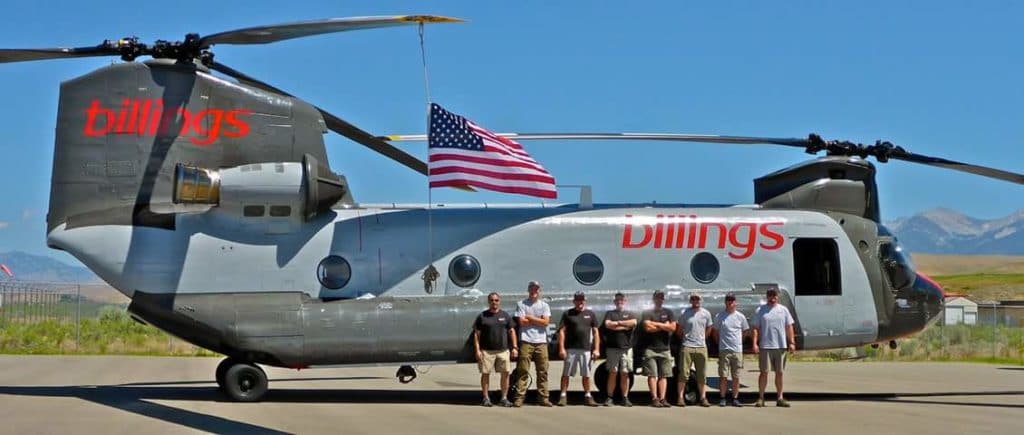 Aerial Firefighting Mechanics
Mechanics ensure the aircraft that are used in aerial firefighting are inspected, repaired, maintained, and returned to airworthiness according to approved documentation. They are responsible for monitoring all the systems on the aircraft and communicating with pilots and drivers on the site of the fire. If while fighting a fire, a pilot recognizes a discrepancy, the mechanic responds, provides feedback, and if needed lends their expertise to rectify the problem. Mechanics tend to have experience on a specific aircraft platform and category. For example, here at Billings Flying Service our mechanics are maintenance experts on the CH-47 Chinook. Some are skilled in avionics while others are skilled in powerplant or hydraulics. Aviation mechanics in the aerial firefighting industry typically have or work toward an FAA A&P license and certification or carding by fire agencies. Contrary to aerial firefighting pilots, aerial firefighting mechanics have the opportunity to join the industry in entry level positions.
Aerial Firefighting Drivers
Drivers ensure the aircraft is fueled and has the support equipment required to sustain operation. Support equipment includes tooling, ground power units, consumable supplies, and replacement parts that pilots and mechanics require. Typical requirements include CDL licensure and a hazmat certification to cover fuel tanker transport. In many instances, wildfires are in remote locations without access to aviation refueling stations. Fuel tanker drivers bridge that gap and bring the fuel to the aircraft. Without drivers to deliver the fuel and support equipment, aircraft will remain grounded and unable to support firefighting efforts. Billings Flying Service has a program to support entry level drivers and provide training to acquire the appropriate certifications.
Aerial Firefighting Smokejumpers
Smokejumpers are wildland firefighters that deploy to wildfires usually by parachute or helicopter. Smokejumpers are one of the first resources available to combat wildfires. They are highly trained, experienced, and qualified to provide wildfire mitigation, rescue, and first aid in rugged and remote places. Individuals already have many years of experience in wildland firefighting and are typically recruited from other fire agencies and crews into smokejumping. Smokejumpers are employed by federal and state agencies and not typically by private aerial firefighting companies such as Billings Flying Service.
Aerial Firefighting Air Attack Team
Air Attack Team is a group or individual that coordinates the aerial resources on a wildfire. Aircraft are used to provide reconnaissance, planning, oversight, and feedback. The air attack team, or air tactical group, typically supervises deployed aerial assets and resources at a higher altitude from a fixed wing aircraft. The team is run by either private companies or public agencies.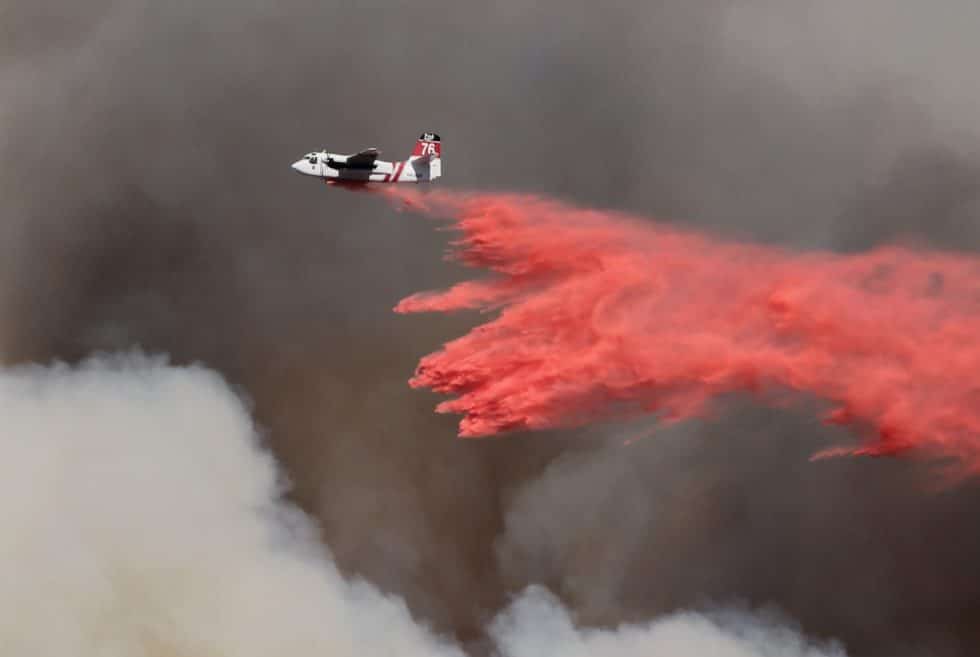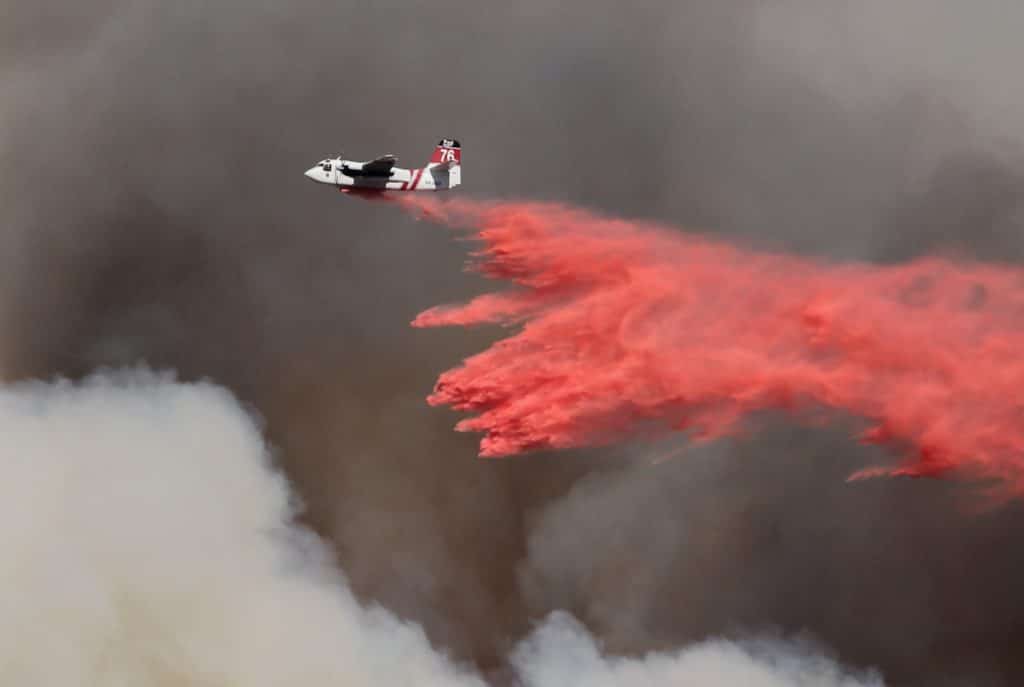 Types of Aerial Firefighting Helicopters
The aerial firefighting industry is a multi-billion dollar a year space that supports a wide range of commercial companies across the world. Within the United States, aerial firefighting assets may be categorized into five groups:
Type 1 Rotorcraft
Type 1 rotorcraft are the largest of all aerial firefighting rotorcraft delivering up to 2700 gallons. Per the United States Forest Service 2021 solicitation, Type 1 performance minimums are the following:
| | | | |
| --- | --- | --- | --- |
| | Altitude (ft) | Temp (deg C) | Payload (lbs) |
| Bucket | 8000 | 25 | 7000 |
| Tank | 8000 | 25 | 7000 |
Rotorcraft that meet this criteria and fall within Type 1 include:

CH-47D Chinook
BV-234 Chinook
BV-107
S-64E, S-64F, CH-54A, CH-54B Skycrane
K-1200 KMax
S-61/SH-3H Sea King
CH-46E Sea Knight
Type 2 Rotorcraft
Type 2 rotorcraft are medium duty helicopters that contribute to aerial firefighting efforts. While they do not have the capacity of Type 1, scoopers, or air tankers, they have the flexibility to deliver water, retardant, or people to a wildfire. Type 2 helicopters are comprised mostly of larger Bell rotorcraft such as the Bell 212 and 205 A1++ and the Sikorsky UH-60.
Per the United States Forest Service 2021 solicitation, Type 2 performance minimums are the following:
| | | | |
| --- | --- | --- | --- |
| | Altitude (ft) | Temp (deg C) | Payload (lbs) |
| Bucket | 7000 | 20 | 3300 |
| Tank | 7000 | 20 | 3300 |
Type 3 Rotorcraft
Type 3 rotorcraft are the smallest of all aerial firefighting helicopters. Type 3 helicopters are dominated by the AS-350 A-Star made by Airbus and the Bell Jet and Long Rangers. Per the May 2019 version of the Standards for Helicopter operations, Type 3 performance parameters are the following:
| | |
| --- | --- |
| Parameter | Type 3 |
| Useful load at 59 deg F at sea level | 1,200 pounds |
| Passenger seats | 4-8 |
| Retardant or Water Carrying Capability | 100 gallons |
| Maximum gross takeoff/landing weight | Up to 6,000 pounds |
Scoopers
Scoopers are fixed wing aircraft that have the unique ability to refill internal tanks while flying at low speeds over bodies of water. Scoopers do not need to return to the closest runway to refill, which is an advantage over air tankers. Viking aircraft and the Air Tractor Fire Boss dominate the industry of aerial firefighting scoopers. Through various studies, scoopers have been found to be an economically effective way of aerial firefighting in comparison to other aircraft. The Viking CL-415EAF has a capacity of 1412 gallons and the AT-802F Fire Boss has a capacity of 800 gallons.

Air Tankers
Air tankers are fixed wing aircraft with internal tanks that refill at local runways with water or retardant. They are comprised of single engine air tankers (SEAT), large airtankers, and very large airtankers. The AT-802F is the main SEAT aircraft delivering up to 800 gallons. Large airtankers deliver between 2,000 and 4,000 gallons including P2V, HC-130H, BAe-146, MD-87, C-130, RJ85, C-130 H & J aircraft. Very large airtankers deliver more than 9,000 gallons including the DC-10 and the Global Super Tanker 747 (since decommissioned).

List of Aerial Firefighting Companies in the USA
Among the five groups, below is a list of the aerial firefighting companies located and operating in North America.
Company
Type 1 Rotorcraft
Type 2 Rotorcraft
Type 3 Rotorcraft
Scooper
Air Tanker
Aircraft
10 Tanker
X
DC-10
Aero Air, LLC
X
MD-87
Aero Flite Inc
X
X
CL-415
RJ85 AT
Aero Tech LLC
X
X
X
AT-802
Bell 212
Bell 407
Airstrike
Firefighters, LLC
X
P-3A
Apex Helicopters
X
Bell 206 B3
AS350B-3
Babcock International (International)
X
X
X
CL-215
CL-415
Ka-32
Bell 212
Billings Flying Service
X
X
X
CH-47D
UH-60A
Bell 206 B3
Blue Sky
X
X
Bell 206
UH-60A+
HH-60L
Bridger Aerospace
X
CL-415EAF
CO Fire Aviation
X
AT-802
Columbia Basin Helicopters
X
x
X
AT-802
Bell UH1H
K-1200
Columbia Helicopters
X
BV-107
BV-234
CH-47D
Conair
X
X
C208B
TC-690A
CL-215T
AT-802 Fire Boss
RJ85 AT
Q400MR
Q400AT
CV580
Coulson Group
X
X
X
C-130
737
CH-47D
UH-60A
Croman Corporation
X
X
S-61/SH-3H
Bell 206B
Dauntless Air
X
AT-802F Fire Boss
Erickson Inc
X
X
S-64E/F
SA330J
H-225
Bell 214
Erickson Aero Tanker
X
MD87
Firehawk Helicopters
X
UH-60A
S-70
H125
Global Super Tanker (decommissioned)
X
Boeing 747
HeliCarrier
X
S-61
AS332L1
AS-350
Helicopter Express
X
X
K-1200
Bell 205A-1++
Bell 407HP
AS-350 B3
Bell 206L3
Bell 206B3
Helicopter Transport Service
X
X
X
Bell 206B3
Bell 206 LR/L3/L4
AS350BA/B1/B2
Bell 407
Bell 205
Bell 212
Bell 214ST
S-61N
CH-54A/S-64E
CH-54B
Helimax
X
X
X
Bell 205A-1++
Bell 212HP
AS350B3E
CH-47D
S-61N
Helinet
X
UH-60A
HeliQwest International
X
X
X
Bell 205
K-1200
AS350B2/B3
Bell 212
Bell 206
Henderson Aviation
X
X
Bell 206 B3
Bell 206 L3/L4
Bell 407
High Terrain Helicopters
X
X
AS350SD2
AS350B2
Bell 206 B2
Bell 205 A1++
Hillcrest Aircraft Company
X
X
Bell 206B3/L3/L4
Bell 207
Bell 205 A1++
Hillsboro Aviation
X
X
Bell 205A-1++
Airbus H125
Bell 407
Bell 206L3/B3
Idaho Helicopters, Inc
X
Bell 205A-1++
Bell 429
Intermountain Helicopters
X
Bell 212HP
International Air Response
X
C-130
Minuteman Aviation
X
Bell 206B3
Bell 206 L3/L4
Bell 407
Bell 210
Bell UH-1H
Mountain West Helicopters
X
X
AS-350 B3E
Bell UH-1H
K-1200
Neptune Aviation
X
BAe-146
PJ Helicopters
X
X
UH-60A
Bell 214B
Bell UH1H
Bell 429
Bell 407
Bell 206L3
Precision
X
AS-332L1
Rainier Heli International
X
K-1200
Redding Air Service
X
X
Bell 206B3
Bell 206L4
Bell 407
AS350
Bell UH-1H
Bell 205
Bell 212
Rogers Helicopters
X
X
AS350B2
Bell 206B3
Bell 206L3
Bell 212
Rotak
X
X
K-1200
AS350B2
Saab
X
AT-802F Fire Boss
San Joaquin Helicopters
X
Bell 205 A1++
Siller Brothers
X
S-64E
CH-54A
S-61A/V
Sky Aviation
X
X
CH-46E
Bell 206 L4
Bell 206 B3
Bell UH-1H
Summit Helicopters
X
Bell 205 A1++
Swanson Group
X
X
K-1200
AS350
Timberline Helos
X
X
UH-60A+
K-1200
TransAero Limited
X
X
AS350B2/B3
Bell UH-1H
Bell 212
WorldWind Helicopters
X
X
Bell 210
AS350 B2
Bell 205 A1++
Bell 206B3
Reach out to Billings Flying Service
We at Billings Flying Service are passionate about aerial firefighting. We have been fighting wildfires since the mid 1990's and have a team with decades of experience. Find us at any of the aerial firefighting conferences, visit our website at www.billingsflyingservice.com, or call our office to learn more about how we can serve your aerial firefighting needs or if you are interested in joining our aerial firefighting team.