Billings Flying Service is proud to own and operate the CH-47 Chinook Helicopter. We are passionate about the Chinook and are excited to share an official CH-47 guide. Within this guide, you will find an introduction to the aircraft, history and model information, specifications, uses and services, maintenance and operation outlines, and a list of the entities that operate the CH-47 worldwide. If you are interested in why the CH-47 is an ideal heavy lift helicopter, see another one of our articles: 10 Reasons Why the CH-47 Chinook is the Ultimate Heavy Lift Helicopter.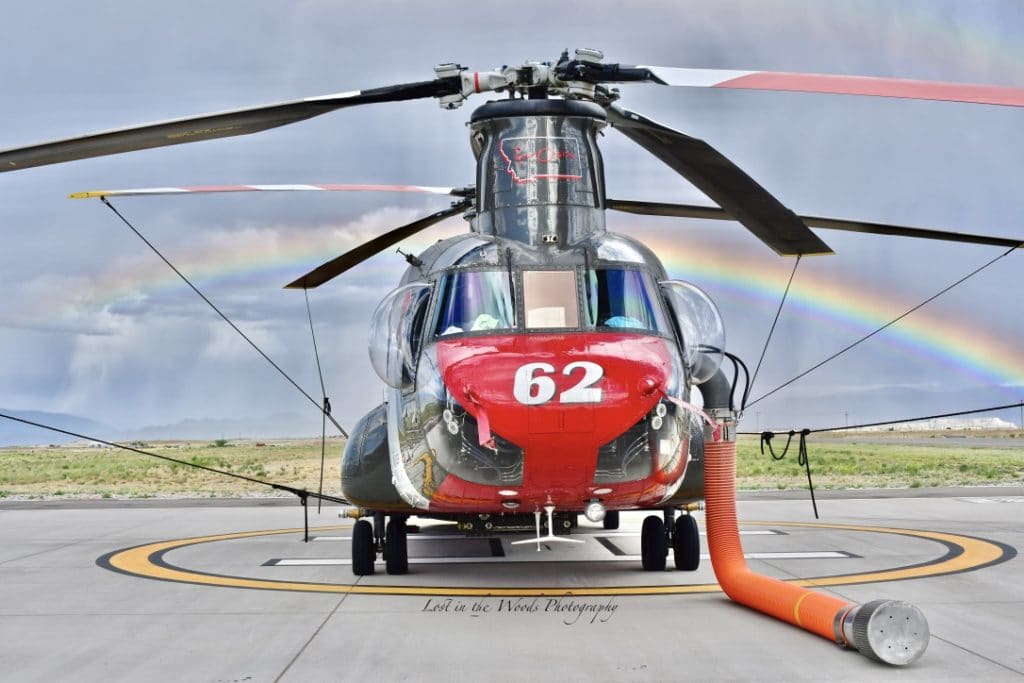 CH-47 Chinook Helicopter Introduction
With nearly 60 years of service and over 1,200 rotorcraft produced, the tandem rotor CH-47 Chinook helicopter has lasted the test of time. Originally designed for the United States Army, the CH-47 Chinook is now an integral part of international military and U.S. commercial fleets alike. With its long range, leading cruise speed, high lift capacity, maneuverability, and hook configuration, the CH-47 provides the ability to transport internal cargo, external cargo, and personnel to support critical missions, disaster relief, construction, aerial firefighting and utilities.
Chinook Helicopter History and Models
In 1933, the first tandem rotor helicopter designed by Nicolas Florine took flight. Although rudimentary, this first iteration provided inspiration to other aviation pioneers such as Frank Piasecki and Igor Sikorsky. Throughout the early to mid 1900's, Frank Piasecki took Florine's principles to the next level and designed various tandem rotor helicopters such as the H-21 Workhorse and HUP-1 Retriever.
By 1956, Piasecki Helicopters became Vertol and began upgrading tandem rotor piston engines with turboshaft engines. Turboshaft technology revolutionized the aviation industry by dramatically improving the power to weight ratio of an engine. Maintaining the same weight, tandem rotor helicopters now had the capacity to lift greater payloads – an important criterion for the U.S. military. Shortly after, Boeing acquired Vertol and expanded the Vertol Model 107 tandem rotor helicopter project into the development of the BV-234 and CH-47 Chinook.
Boeing Vertol transitioned to Boeing Rotorcraft and again to the Vertical Lift Division of Boeing Defense, Space, and Security where the world's foremost tandem rotor helicopters continue to be developed today. The crown jewel of tandem rotor helicopter engineering and cornerstone of Boeing's Vertical Lift Division is undoubtably the CH-47 Chinook. The CH-47 Chinook Helicopter has been in production for going on six decades.
Chinook Helicopter Models
On August 16, 1962 the first Boeing Vertol CH-47A Chinook rotorcraft was delivered to the U.S. Army. A significant milestone in tandem rotor helicopter development, the CH-47A was equipped with state of the art turboshaft engines producing 2,650 SHP each, drivetrain, and integrated systems. The A model was the first CH-47 model, followed by the B, C, D, E, and now F and G.
The CH-47B touted upgraded engines to 2,850 SHP and aerodynamic improvements to improve lift and stability. The CH-47C similarly added an engine upgrade to 3,750 SHP (otherwise known as "Super Cs"), fiberglass blades, triple hook configuration, auxiliary fuel tanks, and structural improvements. Starting from ~10,000 pound external load capacity with the A model, the C model could lift 20,000 pounds externally.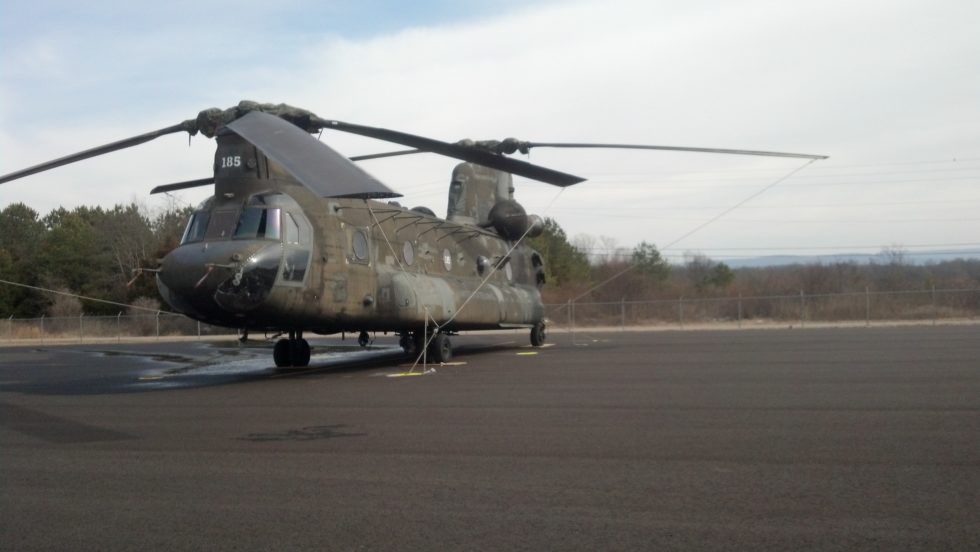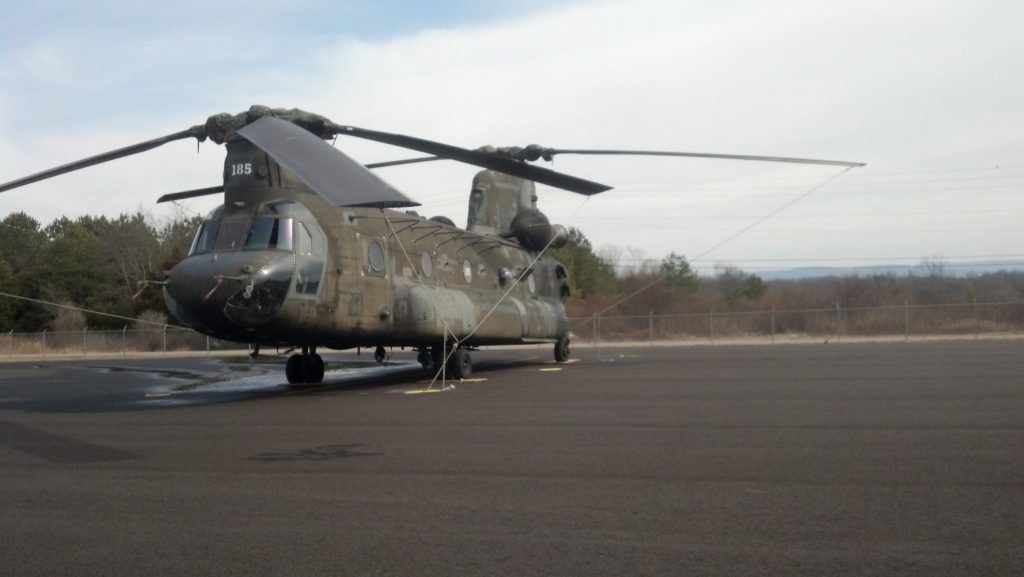 In 1979, seventeen years after the introduction of the CH-47 Chinook Helicopter, the improved D model was introduced. The CH-47D Chinook utilized the same airframe as prior models, but again upgraded the engine to 5,069 SHP and added new transmissions, avionics and advanced flight control, modularized hydraulics, redundant electrical systems, and night vision capability. The CH-47D could now lift external loads up to 26,000 pounds. With these dramatic improvements, the CH-47D became one of the most reliable and capable aircraft ever built.
To accommodate the needs of special forces operations, the MH-47D and MH-47E were developed using the CH-47D foundation to include in flight refueling, advanced weapon and radar systems, and a fast rope-rappelling system.
The durability and integrated design of the D model continued production for approximately 27 years, until 2006 when the F model made its debut. Utilizing the same powerplant and transmissions, the CH-47F Chinook utilizes a single piece airframe, glass cockpit and digital flight controls, and improved vibration control. Block 2 of the CH-47F may include upgraded composite rotor blades along with a range of other improvements.
Similar to the D model, the F model was altered to accommodate the needs of special forces operations. The CH-47G includes in flight refueling, long range fuel tanks, advanced weapon and radar systems, and additional cargo handling and troop deployment equipment.
The CH-47 Chinook Helicopter models began gaining attention from foreign militaries across the world due to its versatility and ability to operate in all corners of the world. Several countries entered agreements with the United States Government and Boeing. Japan and Kawasaki Heavy Industries (KHI) partner to operate CH-47J Chinooks (mostly equivalent to the CH-47D), the United Kingdom's Royal Air Force operate a fleet of HC.Mk6 Chinooks (mostly equivalent to the CH-47F), the Royal Canadian Air Force operate a fleet of CH-147F Chinooks (mostly equivalent to the CH-47F), the Italian Army and AugustaWestland/Leonardo partner to operate ICH-47F Chinooks (mostly equivalent to the CH-47), while many other militaries fly the CH-47D, CH-47SD ("Super D"), and CH-47F. In the commercial sector, Coulson Aircrane and Unical partner to operate CU-47 Chinooks (mostly equivalent to the CH-47D).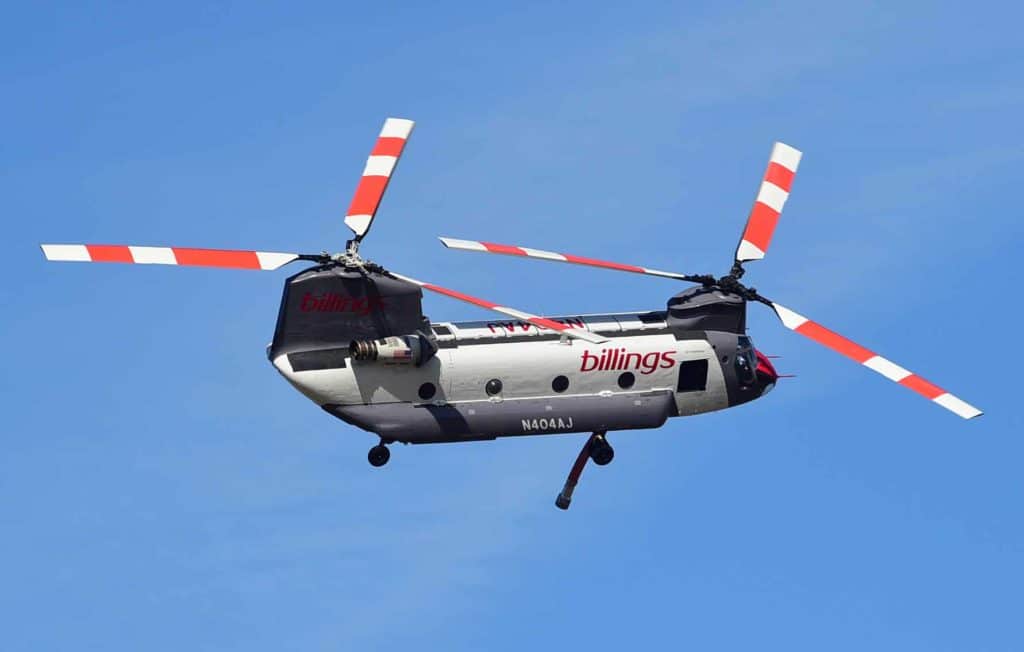 CH-47 Chinook Helicopter Specifications
Today, the CH-47D, CH-47SD, CH-47F, and CH-47G are the models that continue to fly. All previous models have been upgraded to newer models or retired. The majority of performance spec improvements were introduced with the D model: such as max gross weight, external load, combined horsepower, cruise speed, and fuel burn. The Super D, E, F, and G models brought the Chinook into the modern age with digital flight controls and a glass cockpit. Certain models of the CH-47 have extended range fuel systems (ERFS) to increase the range before refueling. In flight refueling is another add-on for certain models to avoid landing. Future iterations of the CH-47 may include composite blades, upgraded engines, improved drivetrain to increase performance, and another iteration of digital flight controls.
| | | | | | |
| --- | --- | --- | --- | --- | --- |
| Model | Max Gross Weight, lbs (kgs) | Max External Load, lbs (kgs) | Max Combined Horsepower | Cruise Speed, knots (kph) | Fuel Burn, gph (lph) |
| CH-47D, CH-47SD, CH-47E, CH-47F, CH-47G | 50,000 (22,680) | 26,000 (11,793) | 10,138 | 140 (260) | 340 (1,290) |
CH-47 Chinook Uses and Services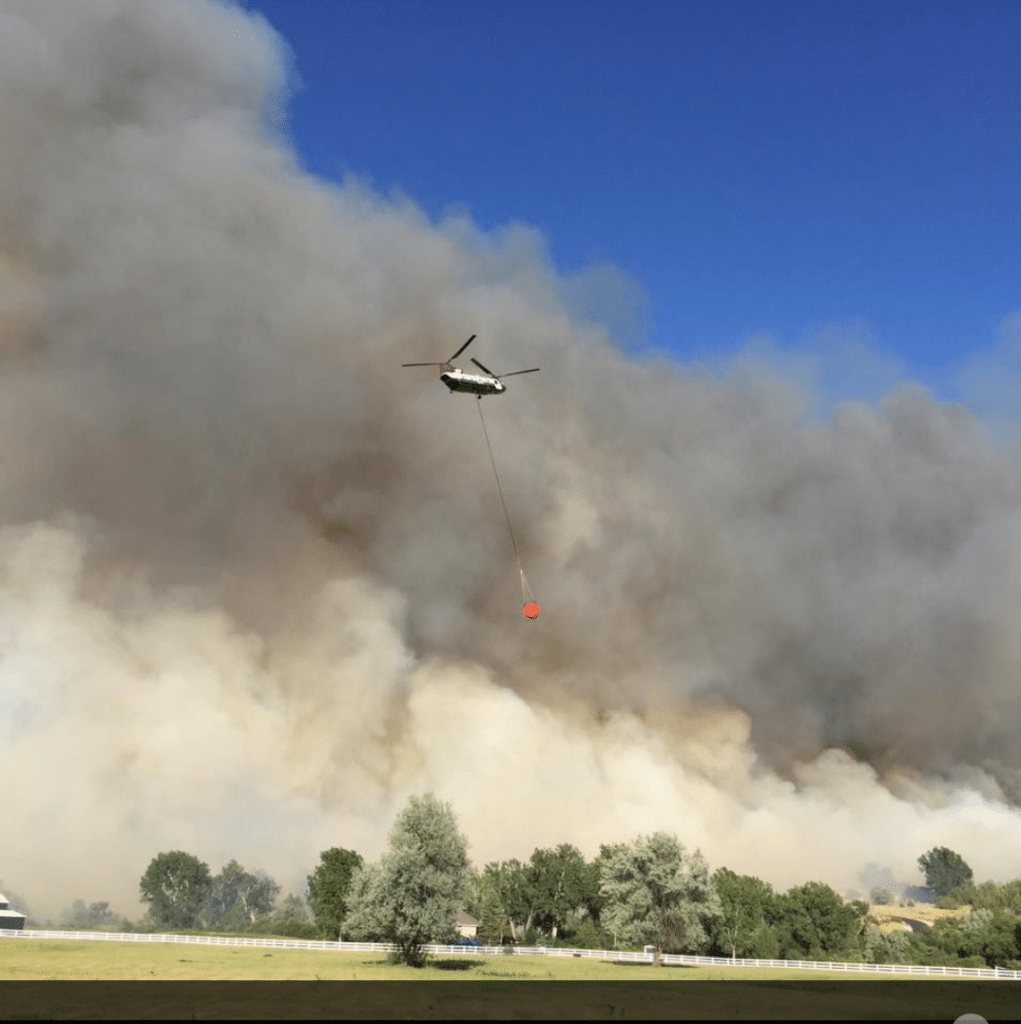 Chinook Helicopter Aerial Firefighting
With the number and intensity of wildfires increasing, commercial CH-47 variants have been re-purposed into aerial firefighting machines. The CH-47 can carry water via an external bucket on a long line connected to a cargo hook or via a custom internal tank. Military variants can also attach to an external bucket and transport water if needed. Check out our article on Aerial Firefighting to learn more.
Troop Transport
The CH-47 Chinook's design accommodates a range of troop seat configurations. Anywhere from 33-55 troops can be transported within the fuselage for mission deployment, re-location, or training. Troop seats designed for the CH-47 Chinook are modular and have quick attachment points on the airframe and floor of the aircraft.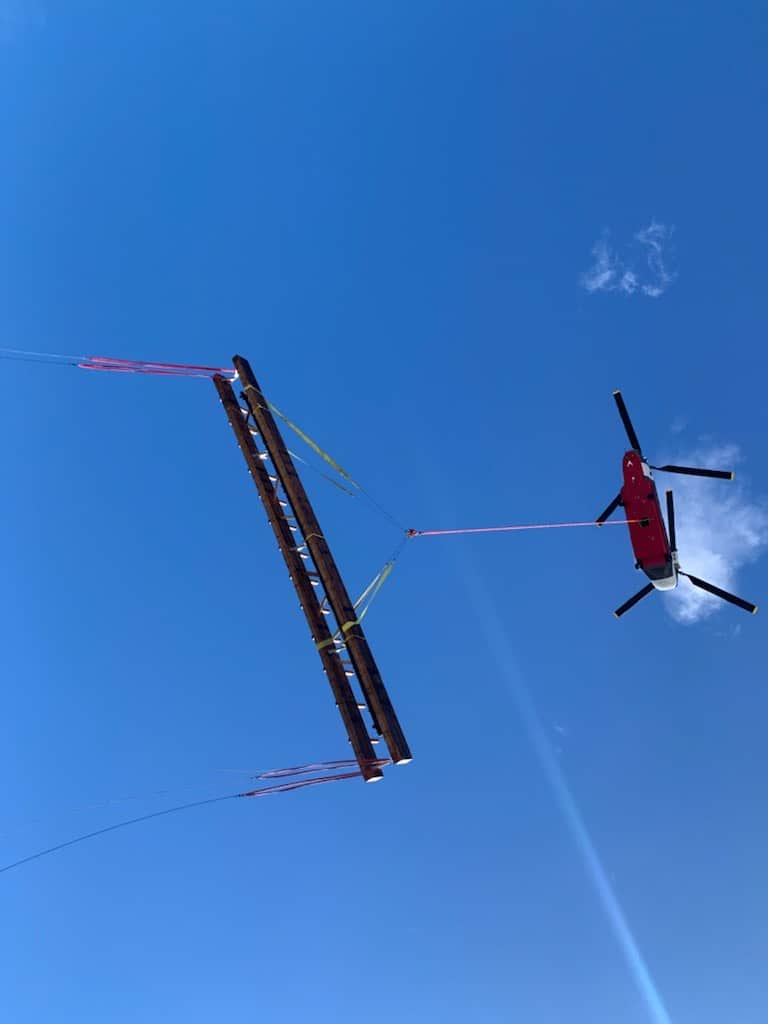 External Cargo
The CH-47 Chinook has a unique triple cargo hook configuration: one forward, one middle, and one aft. Up to 26,000 pounds, the CH-47 can lift and transport a wide variety of external cargo. The triple hook allows for greater stability and range of cargo sizes. Entire aircraft, shipping containers, large weaponry, humvees, boats, power poles, pedestrian bridges, and construction supplies are each among the list of items the Chinook can haul on a long line.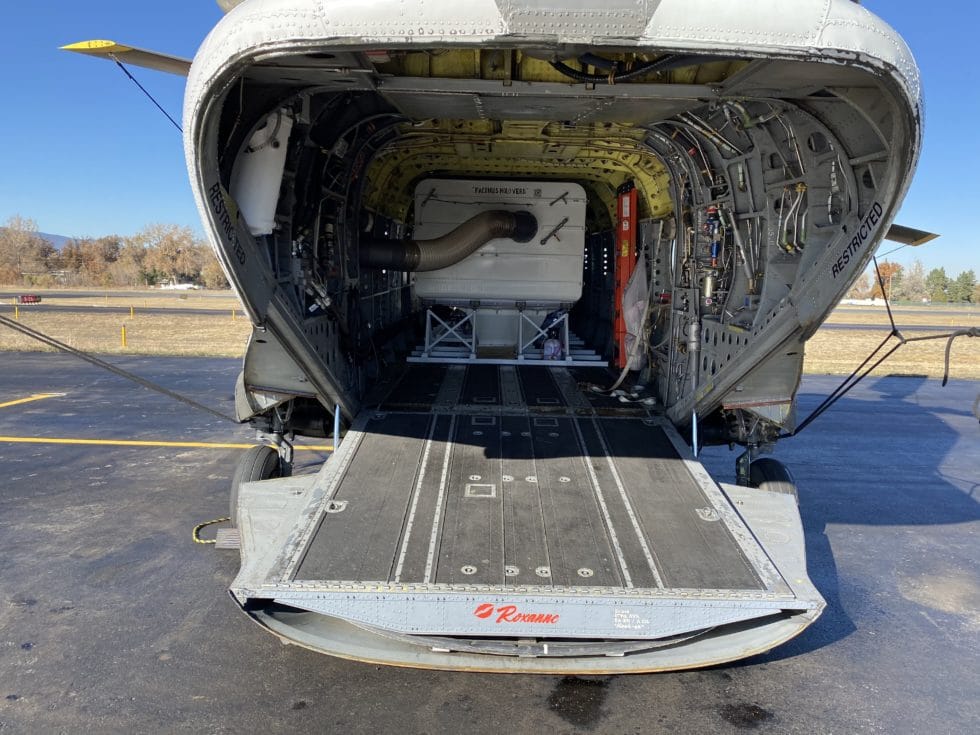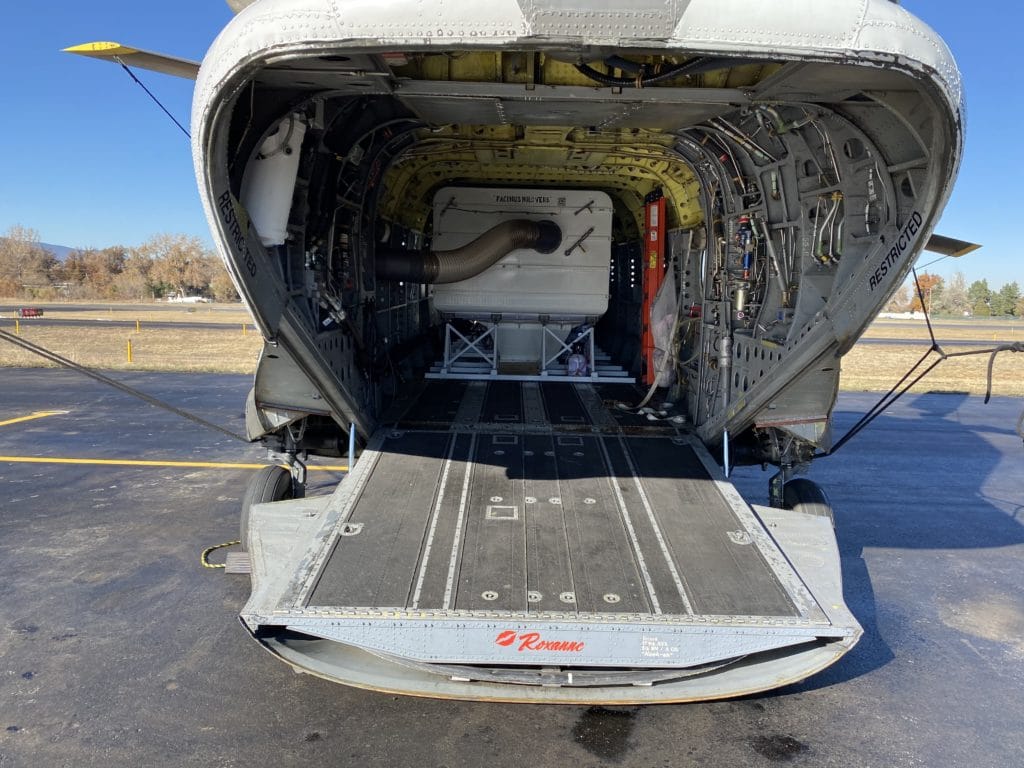 Internal Cargo
The internal storage of the CH-47 Chinook is fitted with a wide variety of heavy duty mounted D-rings, an extensible winch, retractable ramp, rollers, and non-slip flooring. Billings Flying Service has retrofitted the internal cargo of several of our aircraft with quick fill and dispersing aerial firefighting water tanks. While some are dedicated to our aerial firefighting tanker program, others have fully available cargo dimensions measuring 9.3m x 2.29m x 1.98m (equivalent to two military humvees) and a ramp measuring 3.0m long. Equivalent to the cargo dimensions of the CH-53 Stallion, the CH-47 Chinook boasts the largest internal cargo bay in the heavy lift helicopter industry.
Search and Rescue
In emergencies and time sensitive situations, the CH-47 has the ability to respond quickly in the most demanding environments. With a top speed of 170 knots, the Chinook can arrive quickly to a scene. The Chinook's maneuverability, large internal cargo, and external lift capability makes for a valuable SAR/CSAR resource. The CH-47 has successfully retrieved downed pilots and crew members, salvage aircraft, trapped soldiers, and critical equipment in precarious situations. In September of 2020, a CH-47F and UH-60M Blackhawk successfully rescued 396 people and 27 animals. During the rescue, the CH-47 was able to take 102 people in a single flight.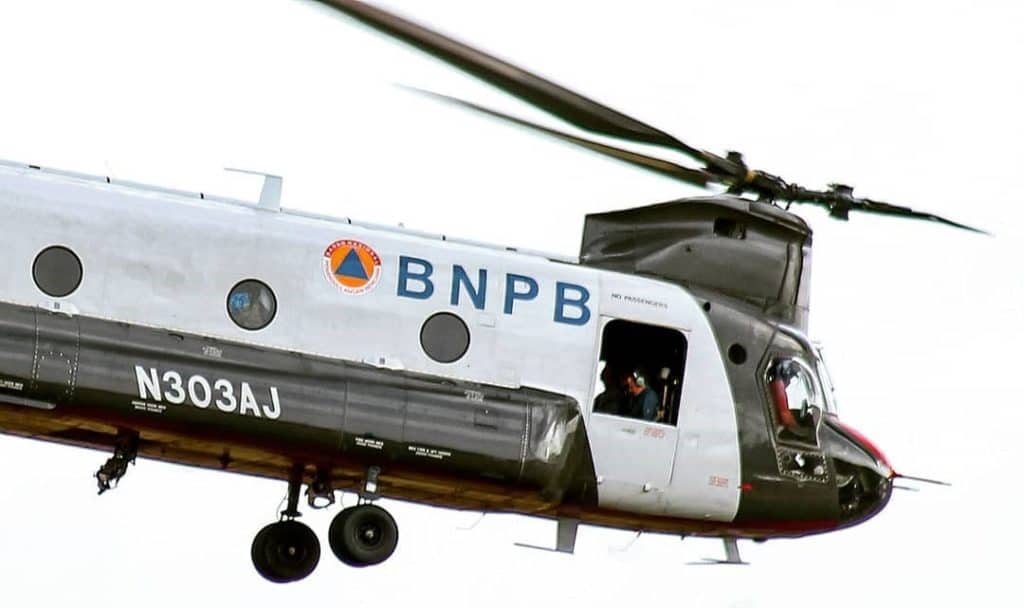 Chinook Helicopter Disaster Relief
The CH-47 has been a critical asset to provide disaster relief across the world. The Chinook can haul food, water, medicine, clothing, and other supplies in large quantities to remote environments. Pallets of goods can be hauled internally such as the meals that were provided to Hurricane Rita relief operations in 2005 or external loads of water can be hauled such as the buckets of water dumped to mitigate the fallout of the Fukushima Nuclear disaster in 2011.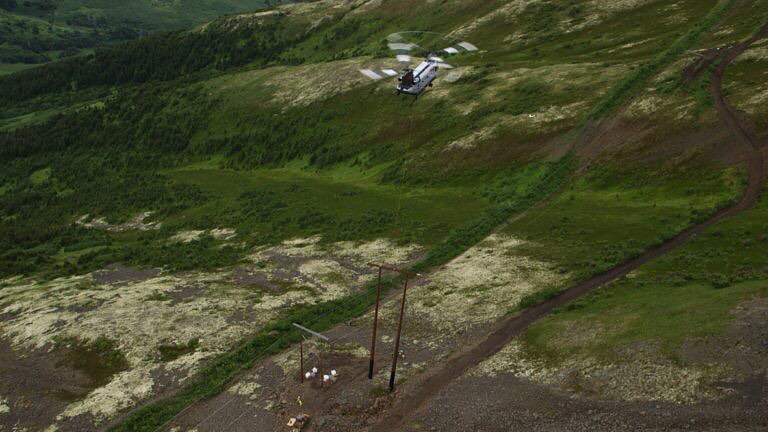 Construction
Certain construction projects are carried out in remote environments or have a unique requirement for aerial support. Examples may include the construction of a pedestrian bridge in a national park, the placement of a HVAC unit on the top of a high-rise building, . While other rotorcraft can provide this service, the CH-47 steps in when the weight of the external load exceeds the capabilities of smaller rotorcraft.
Logging
Often high value timber stands are far from roads and infrastructure. Heli-logging utilizes rotorcraft such as the CH-47 to transport logs and equipment. Specialized grapple hooks are attached to a long line for pick up and drop of timber.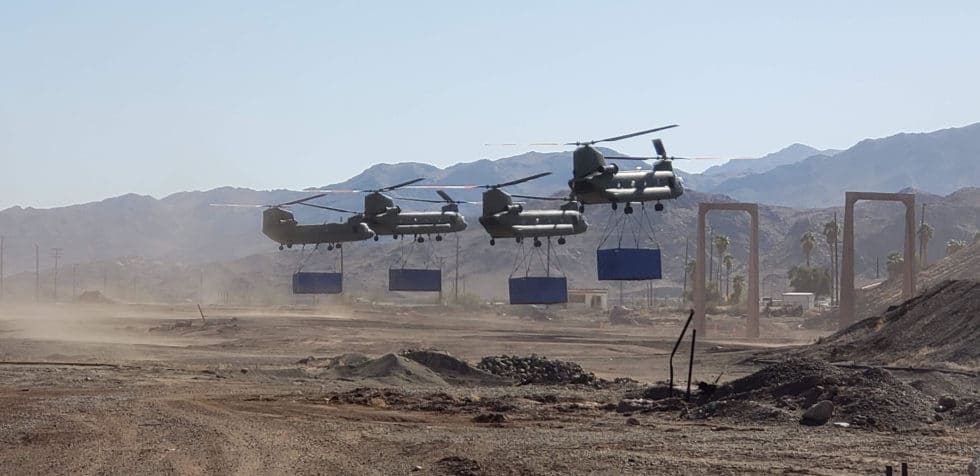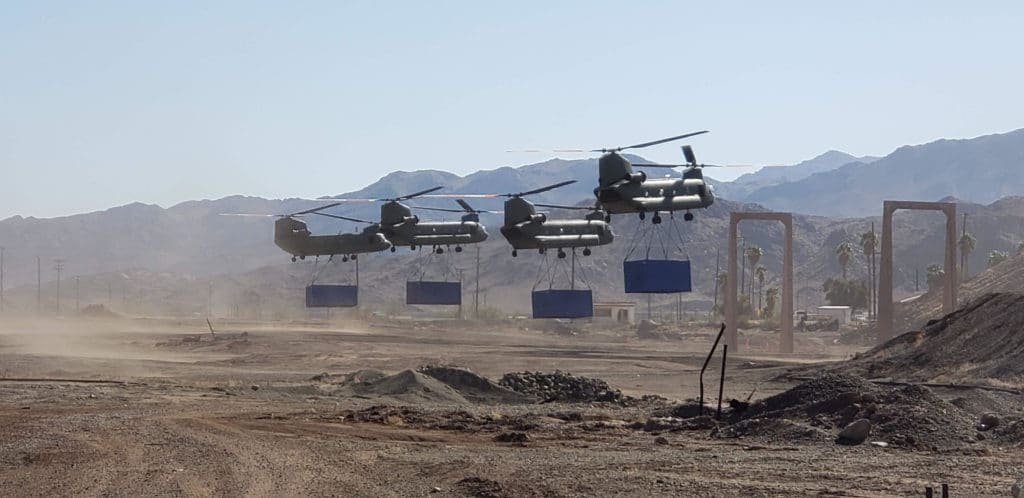 Media
CH-47 Chinooks can be used in movies, television shows, photo shoots, and re-enactments. Recent movies with Billings Flying Service CH-47s include Suicide Squad in 2016 and Tenet in 2020.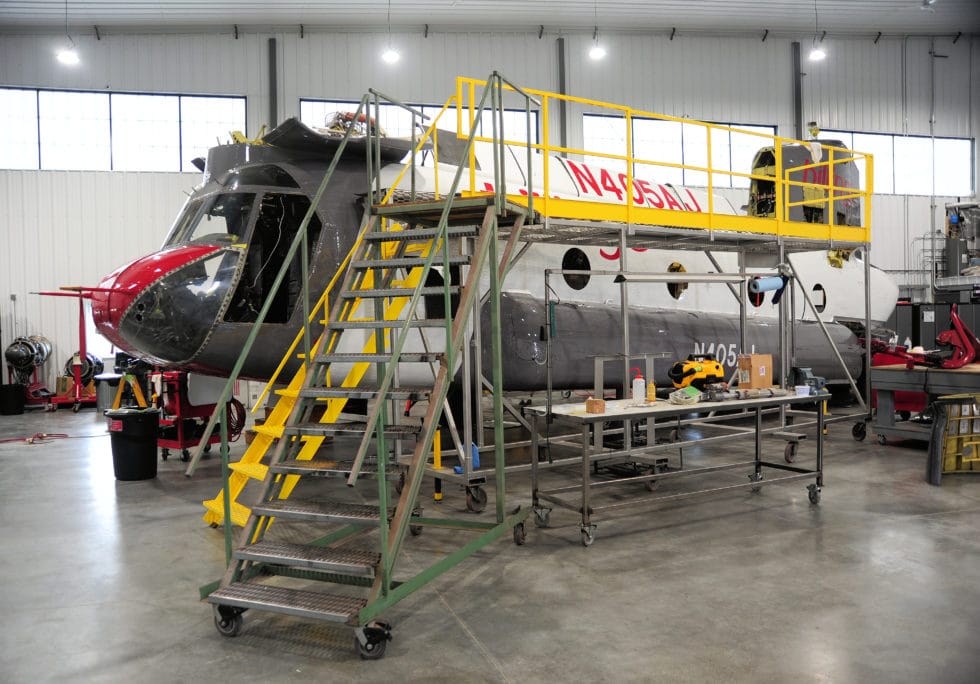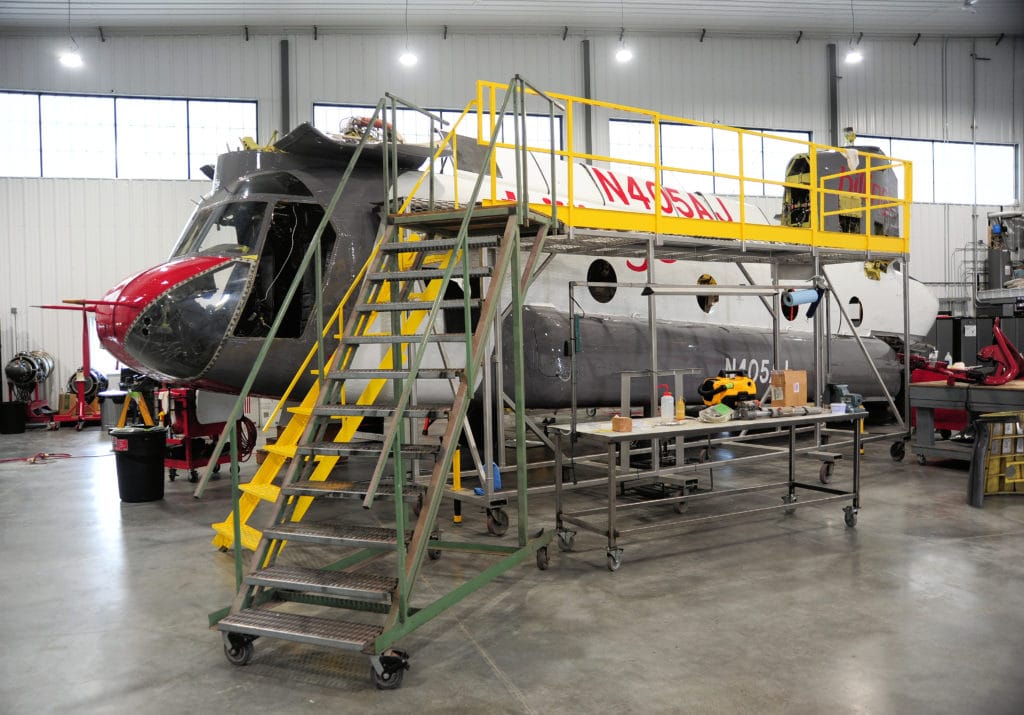 Chinook Helicopter Maintenance
The CH-47 Chinook is a large and demanding rotorcraft. With six blades, five transmissions, two engines, two rotorheads and swashplates, redundant hydraulic and electrical systems, and a large airframe, the CH-47 is a complex aircraft. Maintaining the machine requires an integrated system combining:
Data
Knowledgeable management
Skilled mechanics
Pilot feedback
Sophisticated supply chain
Rapid response logistics
External repair networks
Resourceful engineering
Data
Approved data sets the foundation of CH-47 maintenance. The data provides instructions for assembly and disassembly, outlines test procedures, defines inspection criteria, explains potential repairs, and lists acceptable part numbers for install.
Knowledgeable Management
The management team in charge of each CH-47 defines the maintenance program and directs staff through all procedures to maximize safety and aircraft availability. Experience with the Chinook and the aviation industry allows management to efficiently plan major maintenance between jobs or missions, support troubleshooting, resolve time sensitive aircraft on ground events, and search for areas of continual improvement.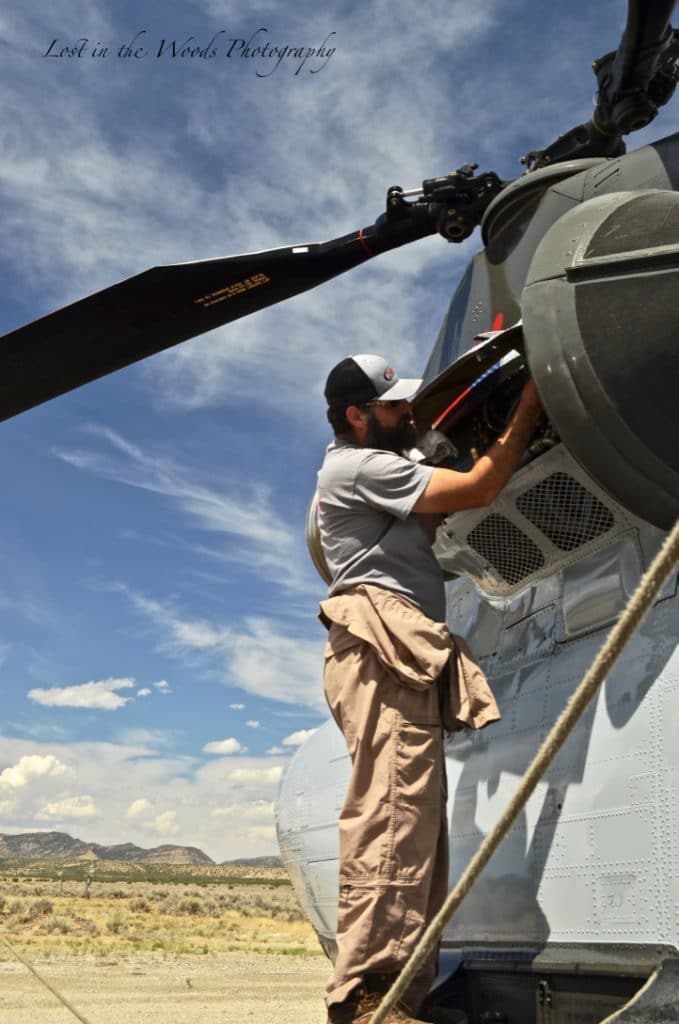 Skilled Chinook Helicopter Mechanics
Skilled and knowledgeable mechanics are a key component to a CH-47 Chinook Helicopter maintenance team. They have first hand knowledge of each section of the airframe with many specializing in one or more of the Chinook's systems: powerplant, drivetrain, avionics, electrical, hydraulic, sheet metal, and airframe. Mechanics implement the maintenance program, work in tandem with management, pilots, and engineers to identify and develop repairs, and monitor the airframe to ensure safe and efficient operation.
Pilot Feedback
The pilots that are flying the CH-47 Chinook have experience with the airframe and can quickly identify discrepancies. Working together with mechanics and management, pilots provide critical feedback that influence immediate and long term maintenance.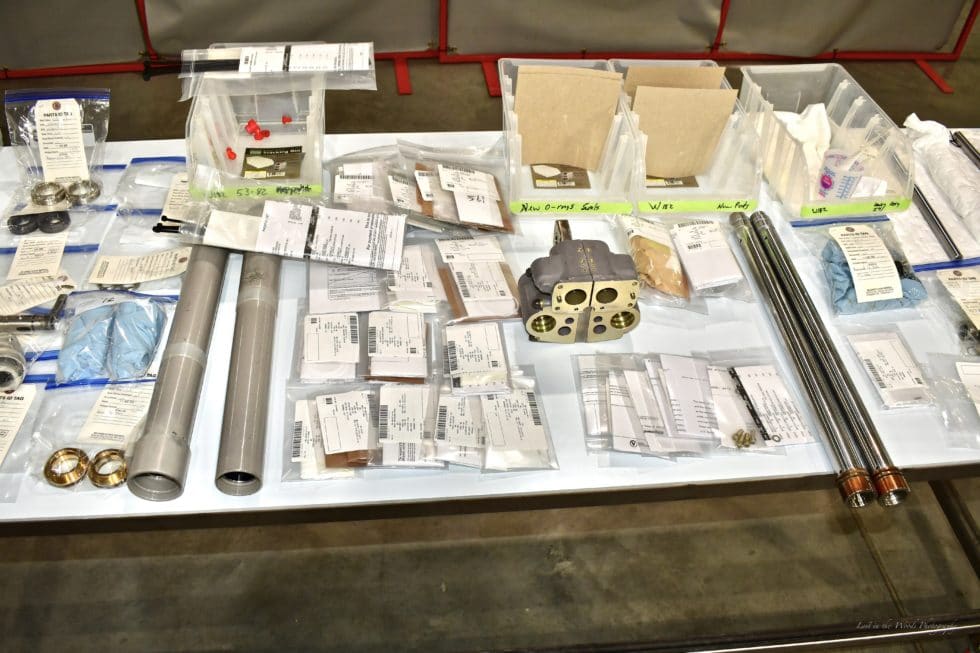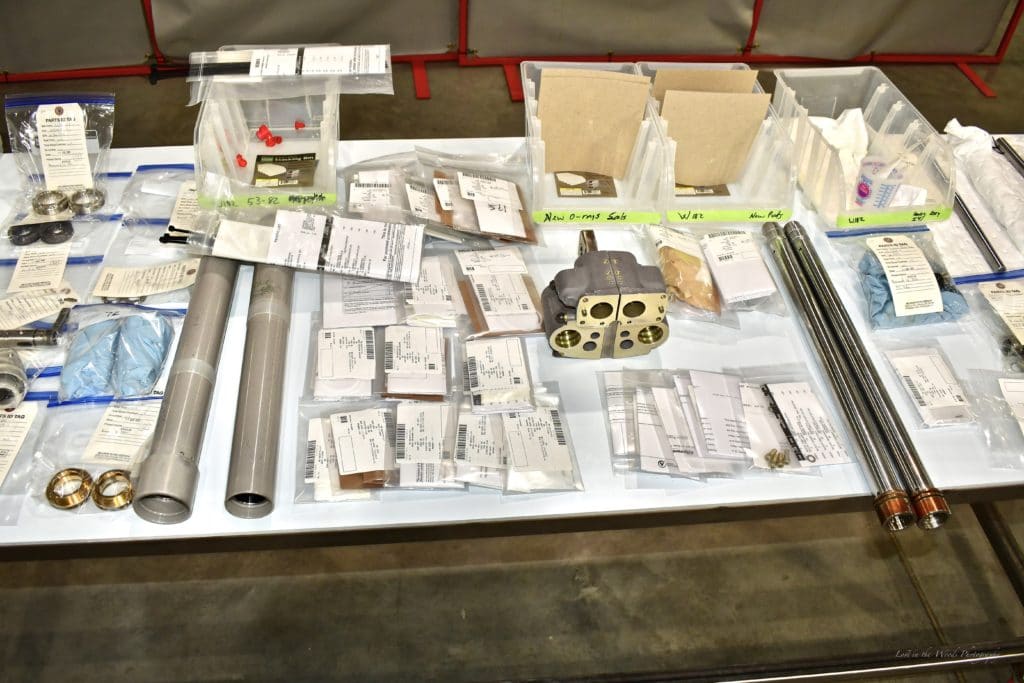 Sophisticated supply chain
The sheer size of the CH-47 helicopter demands a robust supply chain program. From simple orings and screws to entire T55-714A engines, CH-47 operators need to stock and plan for both expected and unexpected part consumption. Expected parts consumption is influenced by historical inventory data and approved maintenance data. Unexpected part consumption may be the result of planned inspections or normal wear and tear on the aircraft.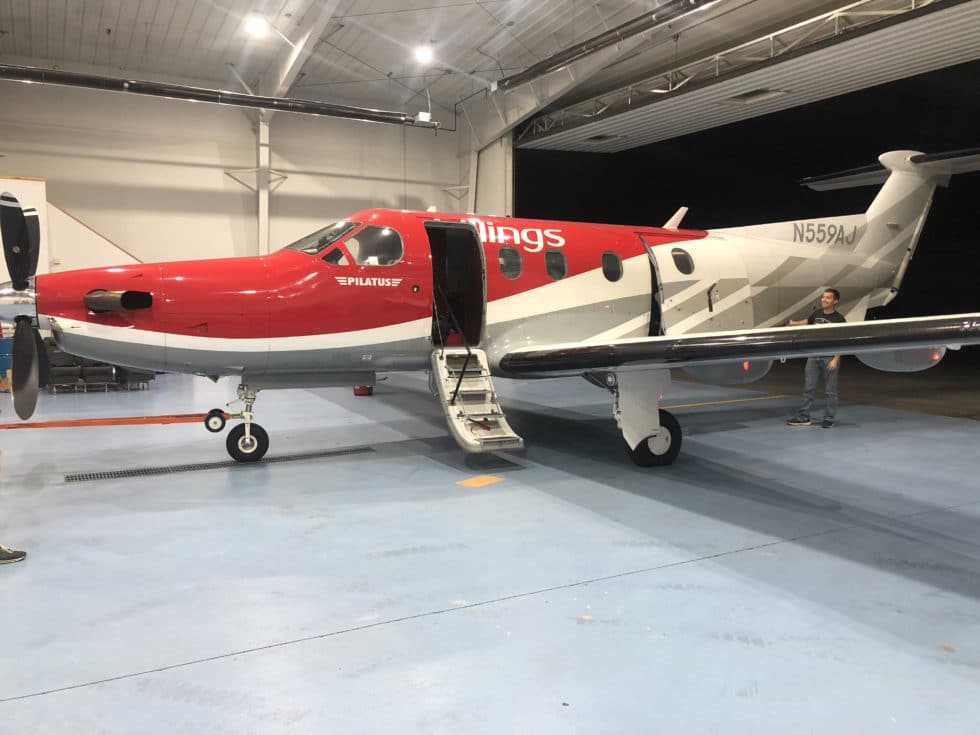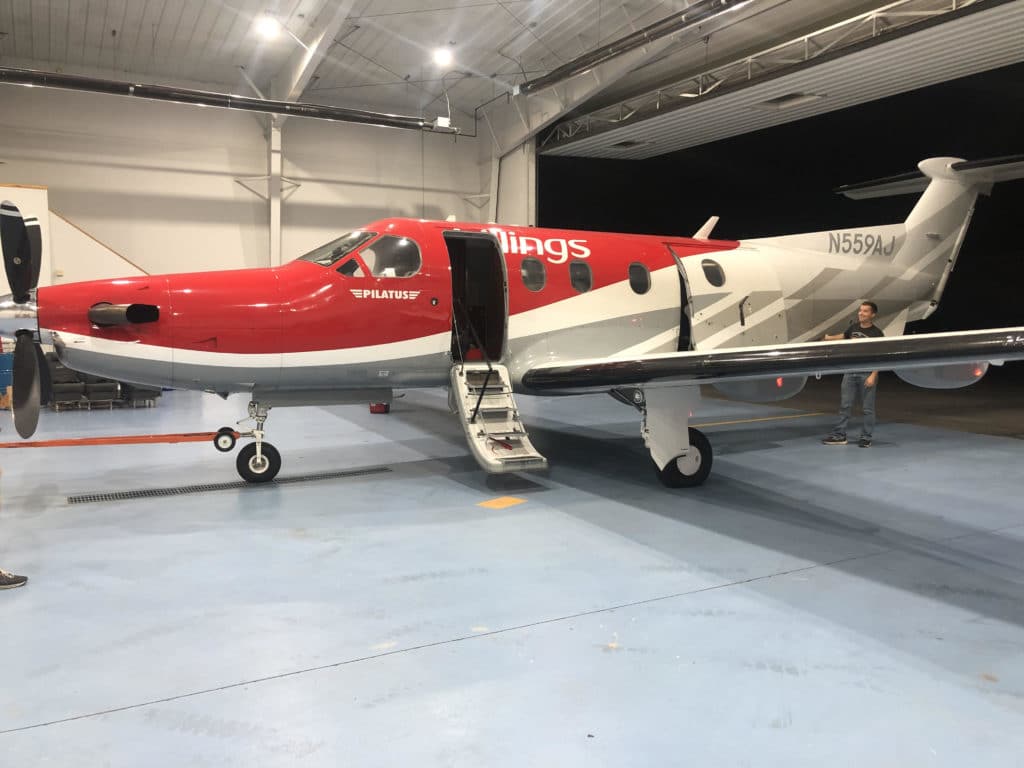 Rapid Response Logistics
Logistics plays a major role in the maintenance of the CH-47 Chinook . From fuel delivery to AOG spare parts, CH-47 maintenance is supported by the shipping and receiving department of any operation, domestic and international parcel delivery services, local trucking, fixed wing fleet support, and skilled staff that can navigate multi-variable problems.
External Repair Networks
External vendors are used when a repair or maintenance activity exceeds the capability of a CH-47 operator. Examples include shot peening, grinding, plating, machining, testing, welding, and inspections. Establishing a network of trusted external vendors to complete repairs on time and within budget is key to the maintenance of a Chinook.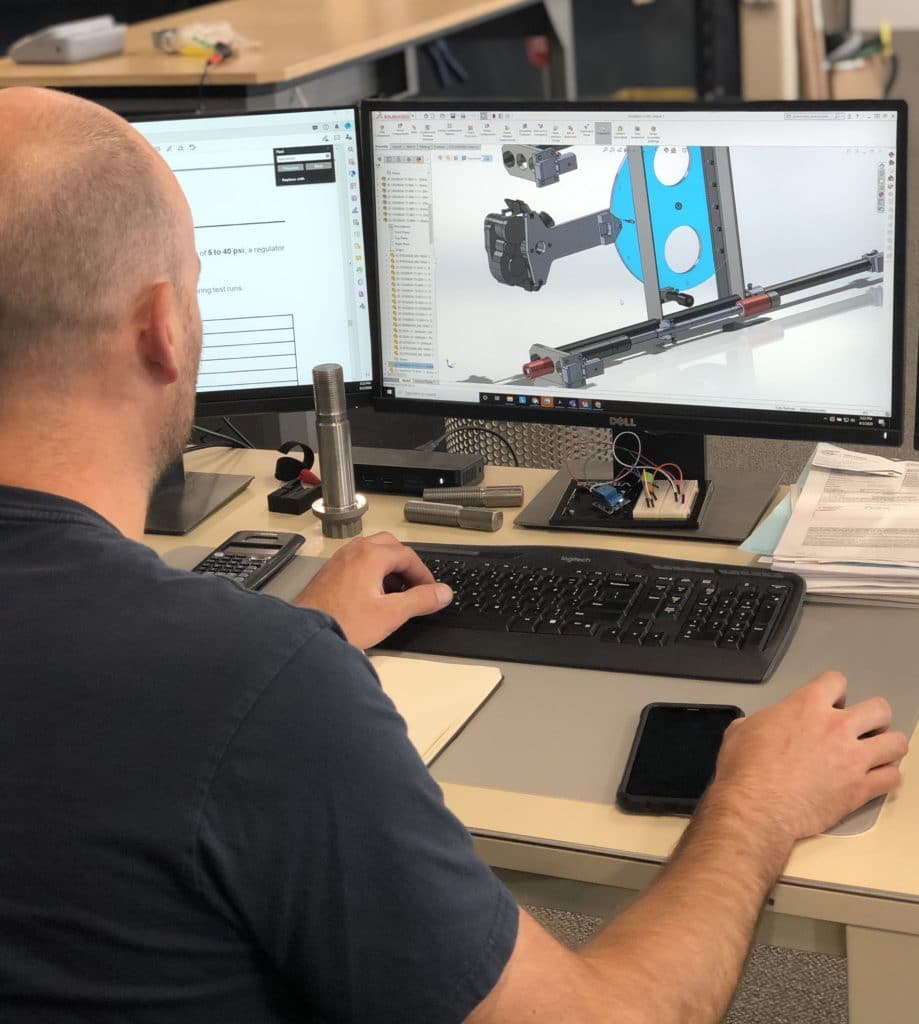 Resourceful Engineering
Often the approved CH-47 Chinook data does not provide enough detail to resolve the issue at hand. An engineer has the capability to compile information from all parties, conduct research, and design a resolution for review. After approval, the engineer can work with management and mechanics to implement the repair. Engineering resources provide above and beyond methods to maintain the CH-47 rotorcraft.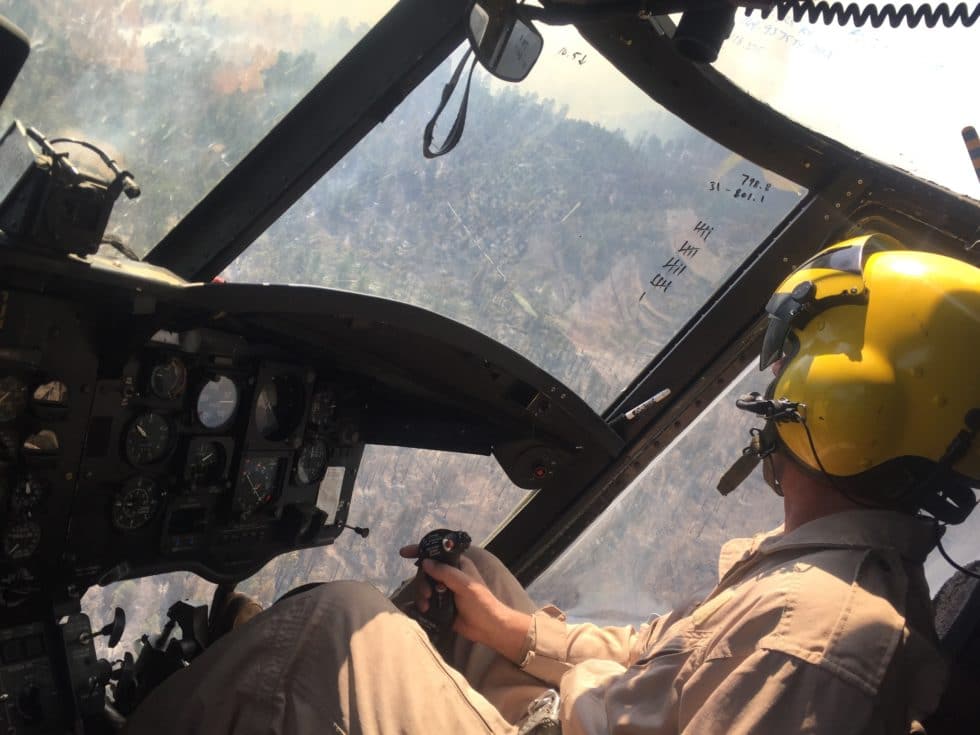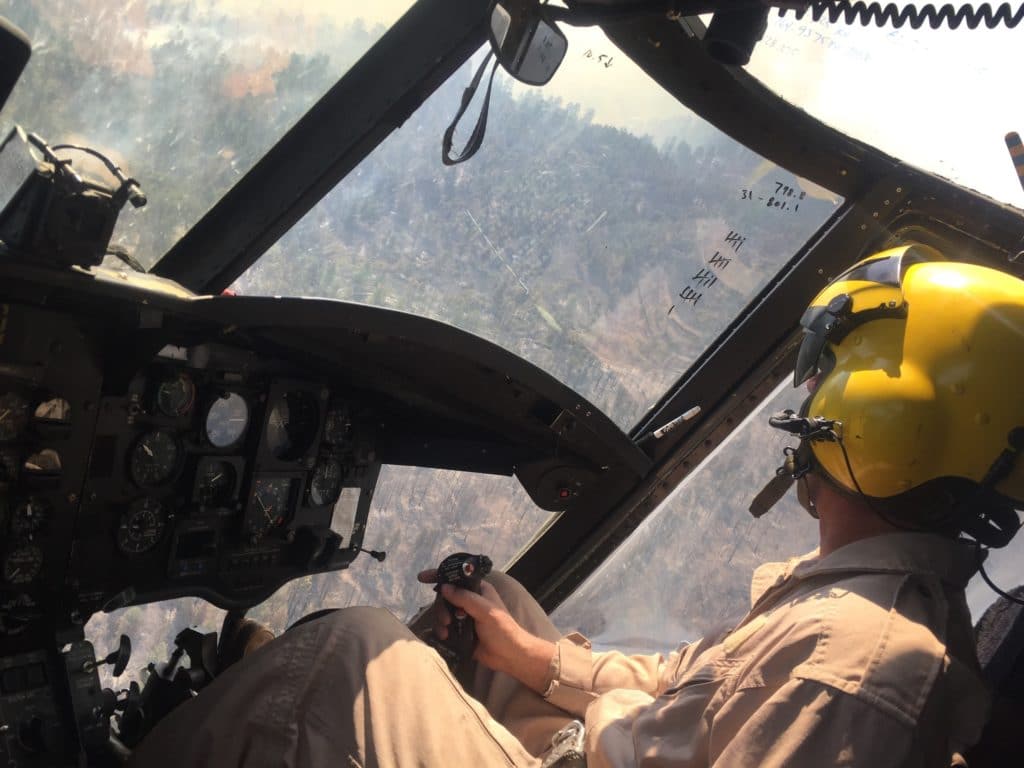 CH-47 Chinook Helicopter Operation
The CH-47 helicopter is operated by a first and second in command pilot (captain and co-captain), flight engineers, and ground support staff. In a mission scenario, gunnery support may also be on board. The operation of the aircraft is guided by the approved performance charts that outline altitude, torque, speed, and fuel consumption parameters. Flight profiles vary from operator to operator.
Pilots are responsible for making all operational decisions during the job or mission. Pilots command the aircraft from startup to shutdown and are supported by flight engineers. Flight engineers monitor the aircraft and communicate status and condition of various aircraft components. Ground support include fuel technicians and mechanics. Fuel technicians are responsible for refueling the CH-47 and mechanics are responsible for maintenance.
The CH-47 Chinook Helicopter is a unique rotorcraft to operate. Contrary to most smaller rotorcraft, the Chinook has an extended fuselage, tandem rotors, capable of rolling landings, and has a retractable ramp and tongue on the aft portion of the aircraft. Each characteristic is an additional variable that pilots and mechanics need to consider when operating the CH-47 Chinook.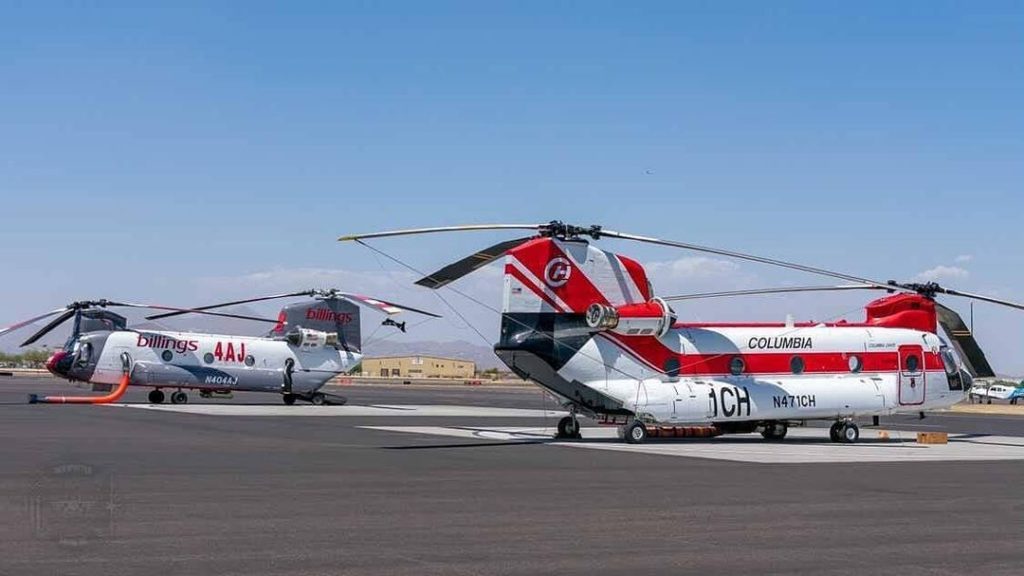 CH-47 Chinook Operators
Worldwide there are both commercial and military operators of the CH-47 Chinook. As of 2021, all commercial operators listed are flying Chinooks, but the military list is unknown.
Commercial Operators of Chinook Helicopters
Billings Flying Service
Columbia Helicopters
Helimax/Construction Helicopters
Coulson Aircrane/Unical
Military Operators
United States Army
Japan Ground and Air Self Defense Force
United Kingdom Royal Air Force
Royal Australian Air Force
Royal Canadian Air Force
Taiwan
Egyptian Air Force
Islamic Republic of Iran Army
Greek Army
Indian Air Force
Italian Army Aviation
Libyan Air Force
Royal Moroccan Air Force
Royal Netherlands Air Force
Republic of Singapore Air Force
Spanish Army Airmobile Force
Royal Thai Army
Turkish Army
United Arab Emirates Air Force
Saudi Arabia
South Korean Army