Billings Flying Service has been chinook helicopter fire fighting since 2014, with the CH-47D Chinook helicopter. With over 30 years of experience operating heavy lift helicopters, we were thrilled to introduce the Chinook into our fleet. Flying alongside our CH-47Ds are a UH-60A Blackhawk and Bell 206 Long Rangers. Prior rotorcraft that we have owned and operated include Sikorsky S-61s, SA330 Pumas, UH-1 Hueys, Bell 212s, and AS350 Astars.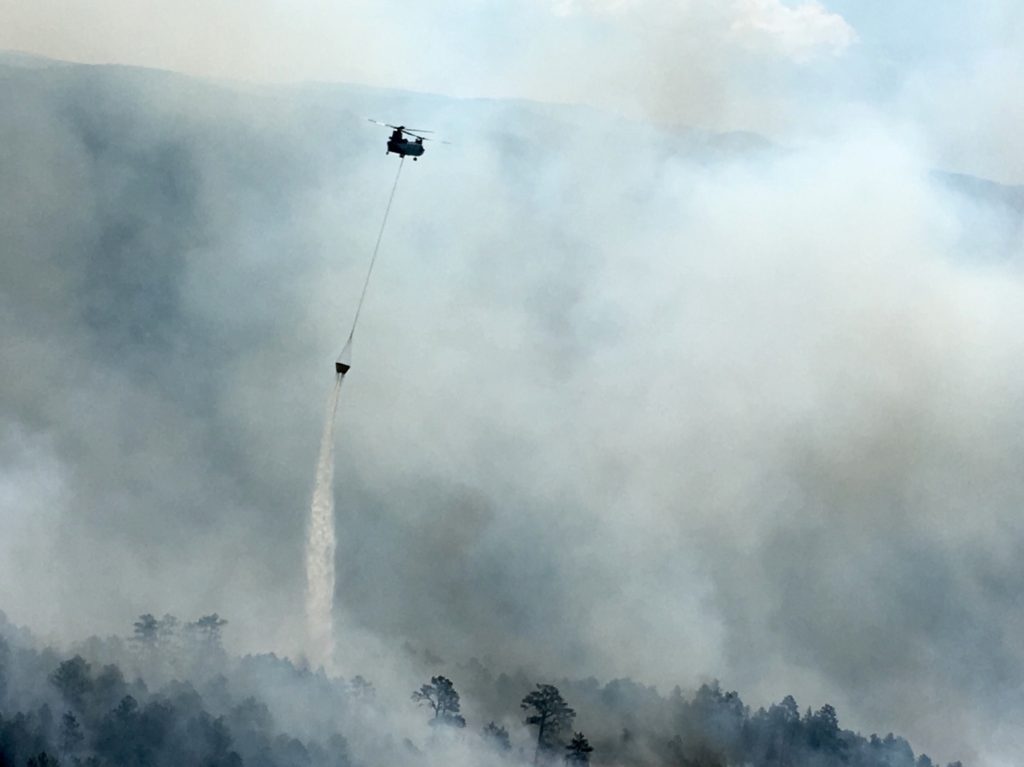 CH47 Chinook: A Natural Fit for Aerial Firefighting
The CH-47 Chinook and aerial firefighting are a match made in heaven. While the Chinook may have been designed for military applications, the following capabilities are what make the CH-47 Chinook a natural fit for aerial firefighting:
Nimble tandem rotor flying ability to navigate rugged terrain,
Built in system redundancy for increased reliability,
High cruise speed to reach emergency situations quickly,
Significant range capabilities for multiple water drops before refueling,
Flexibility to carry water internally over urban areas or externally on a long line
A high payload capability to carry more water than any other rotorcraft on a fire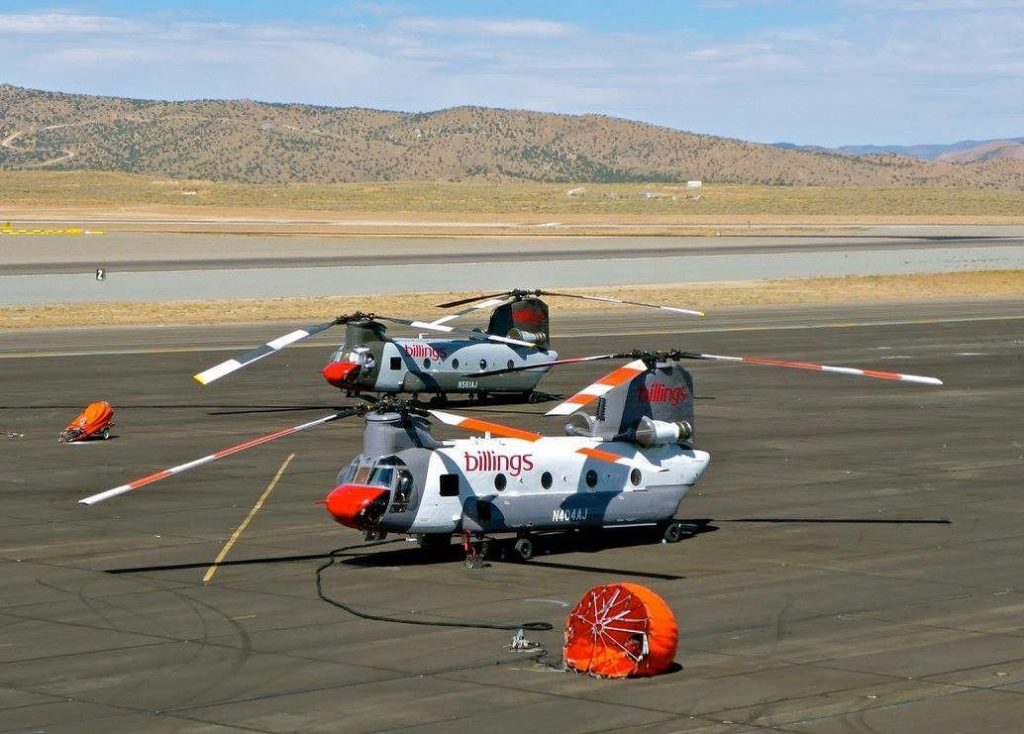 Chinook Helicopter Fire Fighting: Commercial Introduction
Introduced in 1962, the CH-47 has been operating both domestically in the United States and Internationally for nearly 60 years. During that time and continuing today, military operators have leveraged the capabilities of the Chinook to fight wildfires. United States National Guard units and disaster relief operations deploy the CH-47 in emergency areas with external buckets for fire suppression and can evacuate stranded individuals within the fuselage. Other military aircraft are used in the same way, including the C-130 Hercules. The C-130 Hercules houses a MAFFS internal tank system which can drop up to 3,000 gallons of fire retardant.
Prior to 2013, the CH-47 was used to support aerial firefighting by military entities only. That is unlike the UH-1 Huey which had been auctioned off since the 1990's to commercial companies and repurposed for full time aerial firefighting. That changed in 2013 when the U.S. Government decided to auction off a line of CH-47 Chinooks. Four commercial companies (Billings Flying Service, Columbia Helicopters, Construction Helicopters, and Coulson Aircrane) took the leap and added the CH-47 to their fleet, beginning a new era for the CH-47 Chinook.
Today, approximately 20 to 25 CH-47 Chinooks are flying commercially to support aerial firefighting efforts. In the hands of commercial operators, the Chinook has transformed into a mean, lean, firefighting machine. More efficient, capable, and affordable than its military counterpart, the full time CH-47 firefighting Chinooks are an asset to customers around the globe and provide an unmatched service in the aerial firefighting industry.
Chinook Helicopter Fire Fighting Capabilities
The CH-47 Chinook has three external hooks to haul cargo. In the case of firefighting, the main center hook can be used to carry a long line and commonly known bambi bucket. Other commercial versions of the CH-47 have internal tanks with actuated doors on the belly of the aircraft and a snorkel to fill up the tank.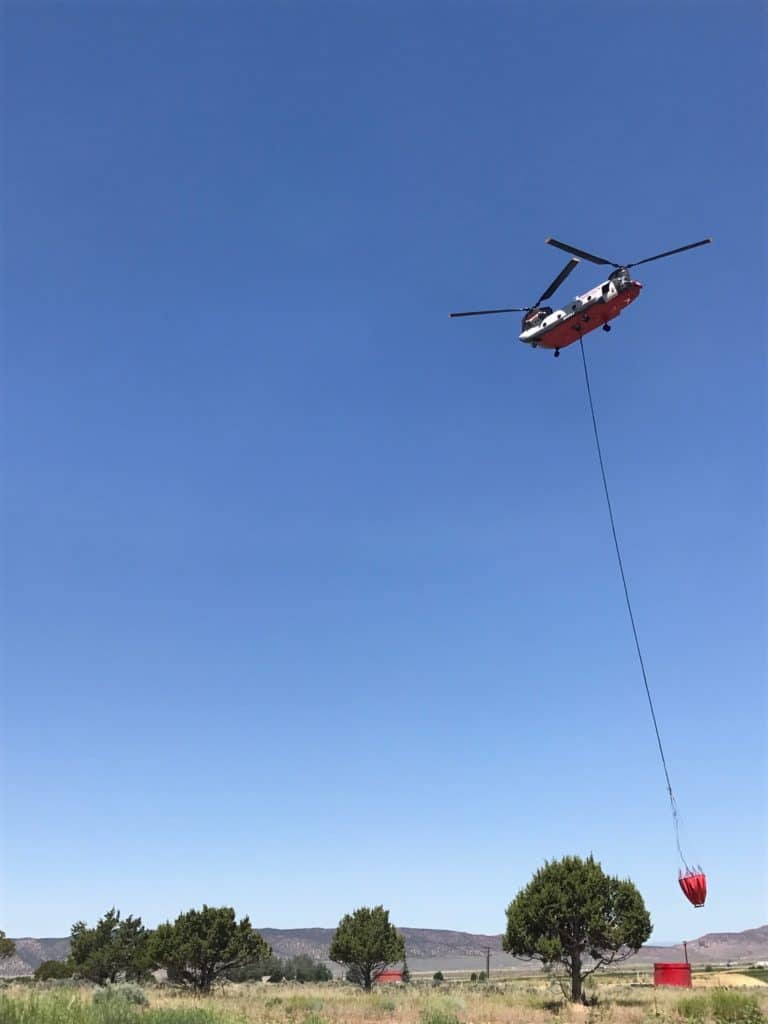 Chinook Helicopter: Bucket Ships
Bucket ships are rotorcraft that carry water in a large bucket suspended from the belly of the aircraft. This is the most common method of rotorcraft aerial firefighting. Long lines, measuring between 100 and 200 feet, are attached to the CH-47's center cargo hook. The long line not only connects the bucket to the aircraft physically, but also electrically for power and signal transmission. Within the bucket is a pump and valve system. When the signal is sent through the long line, power is applied to the pump which fills the bucket. When a separate signal is sent through the long line, the valve at the bottom of the bucket opens, allowing a metered amount of water to drop on precise locations. The CH-47 can haul buckets that carry up to 2,700 gallons of water depending on temperature and elevation. A full bambi bucket can be completely released within three seconds.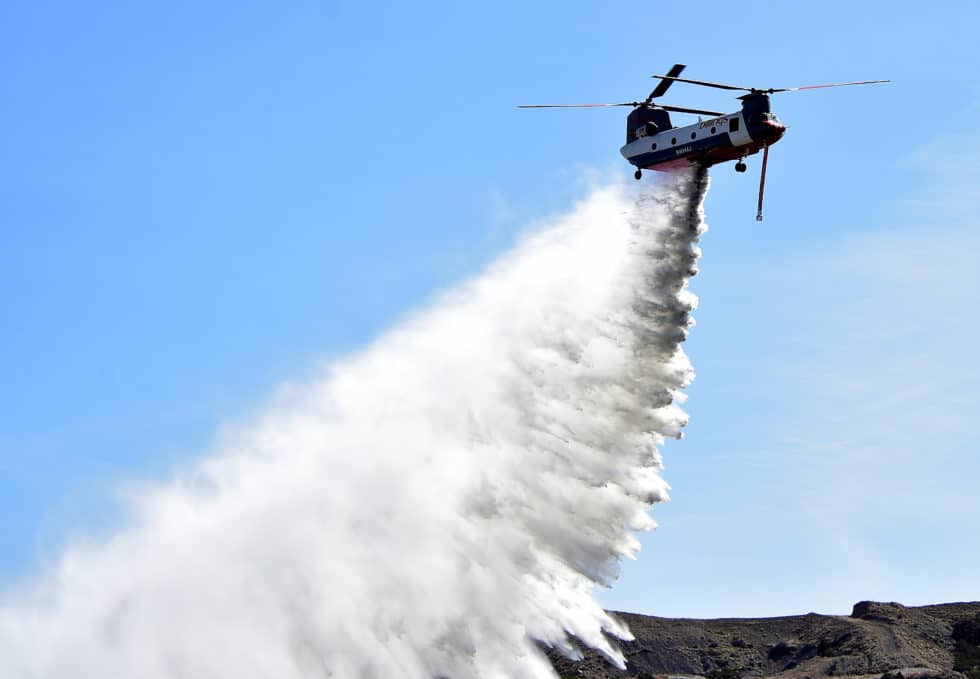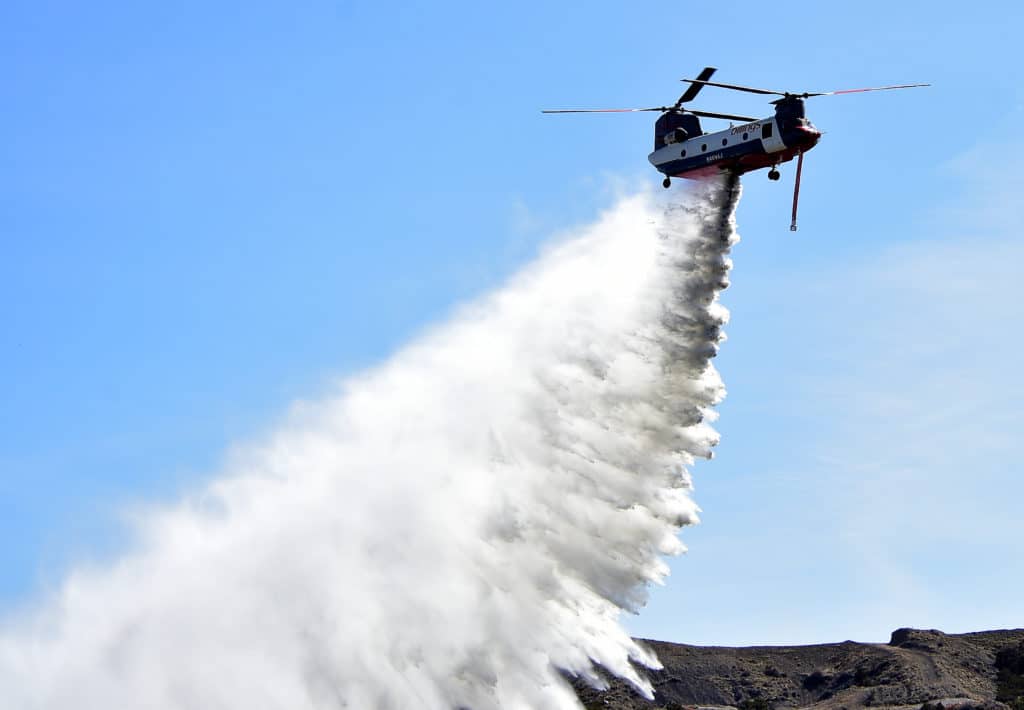 Chinook Helicopter: Tank Ship (Helitankers)
The development of the CH-47 helitanker came soon after the introduction of the CH-47 into the commercial sector. A helitanker is a helicopter with an attached tank system to deliver water. Helitankers are preferred in certain areas due to lower risk of long line detachment. Helitankers can be at a disadvantage if water sources or fires are in space constricted areas. Rather than being a hundred feet off a body of water, a helitanker must come within feet of a body of water to fill the tank.
While each helitanker is different, the Billings Flying Service CH-47 helitanker can support up to 2,500 gallons per trip. The BFS tank was developed in partnership with Kawak Aviation with the ability to hold both water and foam concentrate. The tank is installed in the fuselage with an underbelly sliding door to improve drop patterns. The tank can be filled within 40 seconds using a snorkel with a pump on the end.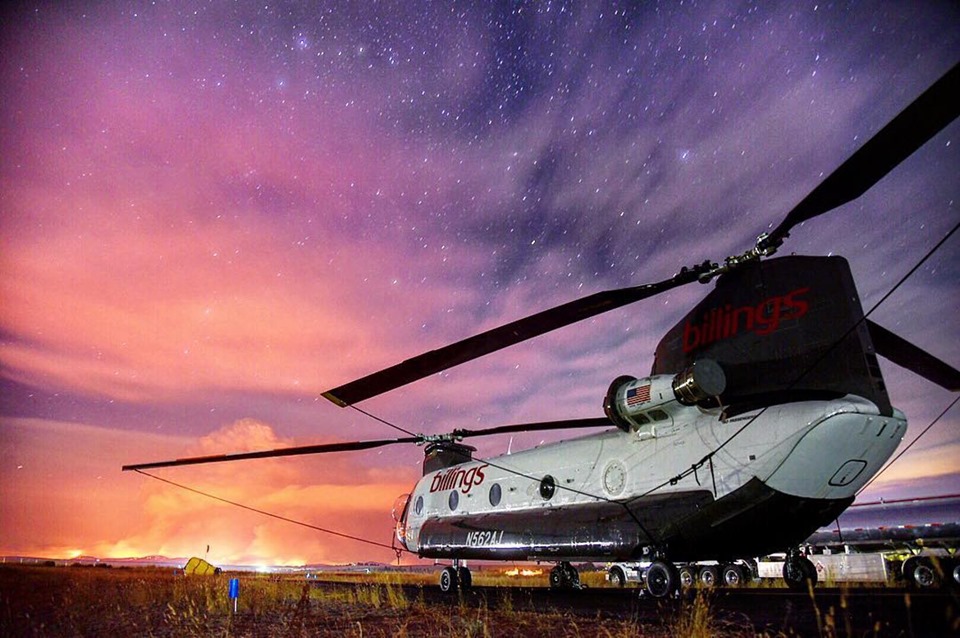 Chinook Helicopter Fire Fighting Advantage: Night Vision
The CH-47 is equipped with night vision flying capabilities. This means that onboard instruments are compatible with night vision googles and that the cockpit has the equipment necessary for nighttime flight. Night vision is key for military missions but has a complicated history in aerial firefighting. In the 1970's night vision helicopter flying began picking up steam. Only a few years later in 1977, two helicopters flying with night vision goggles collided leading to loss of life. Night vision aerial firefighting programs have been limited as a result.
Recently, interest in aerial firefighting at night has been renewed. Advances in technology, successful pilot programs, and willingness by government bodies to operate at night are moving night vision flying forward.
Data Collection
Whether a bucket or tank ship, each Billings Flying Service CH-47 is equipped with onboard data collection systems. Each trip to fill and drop water is tracked using GPS coordinates, air speed, and elevation. Water fill and drop events are recorded detailing gallons and location. Data collection on the CH-47 allows the customer to actively manage and track the performance of each rotorcraft on a wildfire.
Whether a bucket or tank ship, night vision capable, or equipped with data collection systems, the CH-47 Chinook is one of the most capable firefighting helicopters available today. If you are interested in CH-47D Chinook aerial firefighting services, give us a call at Billings Flying Service: 406.252.6937.